Captive care of B.asper
from Sierra on July 1, 2003
View comments about this article!




Bothrops asper:

A collection of captive care notes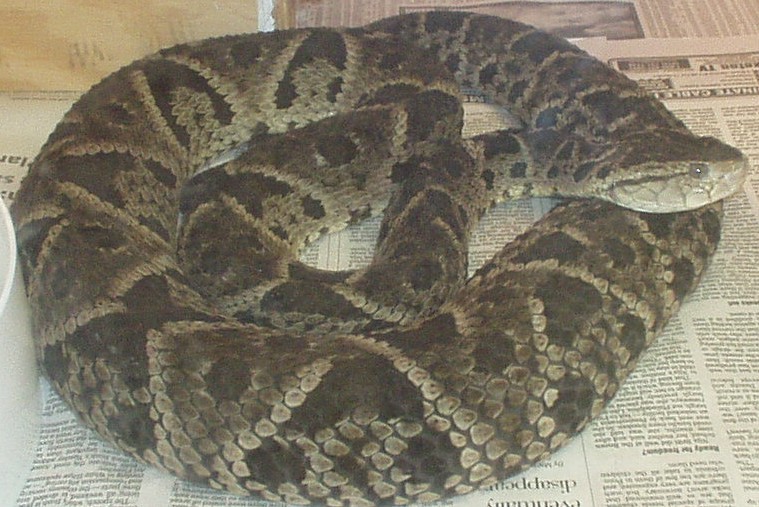 Our largest female asper, 91.5 inches in length and 12 lbs-3 oz. Photo by Sierra
In my opinion, Bothrops asper is one of the most spectacular species in the entire world and is one of my personal favorites. Yet, it is probably also one of the most over looked. It has a reputation as being a psychotic, unpredictable snake, but this is not entirely true. However, I would recommend that only very experienced keepers maintain this species. I would further recommend that shift boxes be used, as it is by far the safest way to deal with them, as well as many other species of venomous snakes. And it is much less stressful on the animal. With aspers, shift boxes totally prevent the explosion that they are famous for when disturbed. On most occasions an asper will sit motionless until you physically contact it in some way, however if you happen to bump it with your hook it will explode into a spastic missile, usually in the opposite direction of the disturbance. Aspers are also known to ambush their pursuers (…by initially fleeing then doing a lightning quick 180 and waiting for the pursuer to get within striking range. This has been noted by several herpetologists such as Harry Greene and Dean Ripa). I have witnessed this personally, it is quite startling, and you could be in real trouble if unprepared for this tactic. Another tactic it uses is to strike its head just past its target, then double back quickly twisting its neck to catch the prey from behind. A quote from Dean Ripa "By my estimation, the world's most dangerous viper to catch." Our personal experience with this species is relatively new. We have maintained a large adult female for nearly a year now and just recently purchased 2.2 cb neonates from Dean Ripa.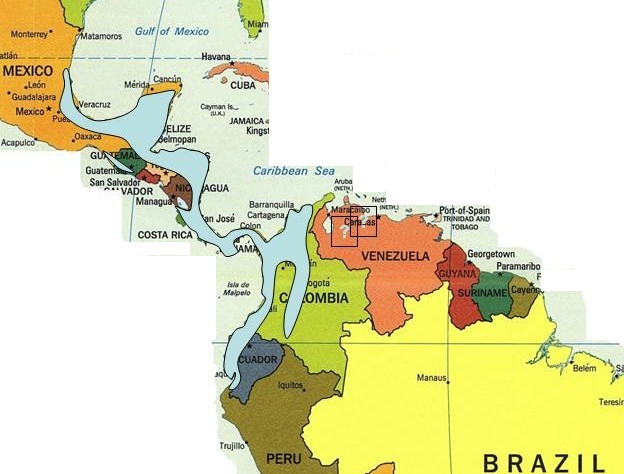 B.aspers approximate home range indicated in blue. (thanks Wolfgang W. )
The home range of the asper ranges from northwestern Mexico, southward to which it extends from Mexico to Ecuador. Countries within this range are Belize, Colombia, Costa Rica, Ecuador, Guatemala, Honduras, Mexico, Nicaragua, Panama, and its presence is questionable in Venezuela. It occupies mainly tropical rainforest and tropical evergreen forest, but is also found in dryer regions of tropical deciduous forest, thorn forest and pine savannah in near proximity to rivers, streams or lakes. Often also found in agricultural areas and plantations it can thrive in nearly all habitats (it is one of the most abundant pitvipers in the world). It is mainly nocturnal, spending the day hidden among roots, leaf litter or other similar locations. It has several names from Lancehead to Barba amarilla and Fer-de-lance but one of the most commonly used names is most likely Terciopelo. It also varies greatly in size within its range with the some of the largest specimens located near Manzanillo, Limon province Costa Rica (this is the locale of our 2.2 neonates). Coloring can vary slightly among the locales as well. The size of Bothrops asper, especially females, is one of its most amazing features. Asper females are a thick- bodied snake, extremely powerful, and one of the largest/heaviest bodied venomous snakes in the world. Adult females may reach a body weight in excess of 13 lbs perhaps even reaching up to 22lbs. Max. reported length is 8.2 feet, with unconfirmed reports of 9.8 feet but average is most likely around 6'. It is very possible that an unbred female could reach nearly ten feet in captivity. Our largest female is currently a three year old CB, with a length of 91.5 inches and a weight of 12 lbs-3oz. Aspers are sexually dimorphic, perhaps more so than any other snake in the world. Females are much larger and can reach more than ten times the size of a male from the same litter. Any Terciopelo reaching or exceeding 6.5 feet is definitely female. In an adult male of equal length to an adult female, the female's head will be twice or even three times larger, with much larger venom glands and fangs. The size-difference is not noticeable in neonates and is not visible until the males have reached about half their reproductive age somewhere between 7 months and one year of age. At this time females begin to overtake the males in size.
Sexing neonates is quite easy as the males will have yellow caudal luring tail tips and females will not, however both sexes will utilize caudal luring techniques and this can be useful in establishing feeding.
Temperament of an asper has mythological attributes and most people fear and respect them greatly, including many venomous herp enthusiast that I have talked to. Aspers may strike repeatedly from any body position, requires no fixed coil, and strikes at movement as well as heat. These snakes are extremely fast and agile. When threatened it will vibrate its tail and also expand itself to appear larger. Mostly a shy snake, it will try to escape but if it feels cornered, this nervous snake is extremely dangerous.
I have found aspers to be fairly easy to maintain (notice I said maintain, not handle), but of course it depends on the animal and individual your dealing with. Wc aspers can be difficult to get feeding especially neonates. Anoles may be one of the first foods to be taken and using scenting techniques you can easily switch them over to pinkies.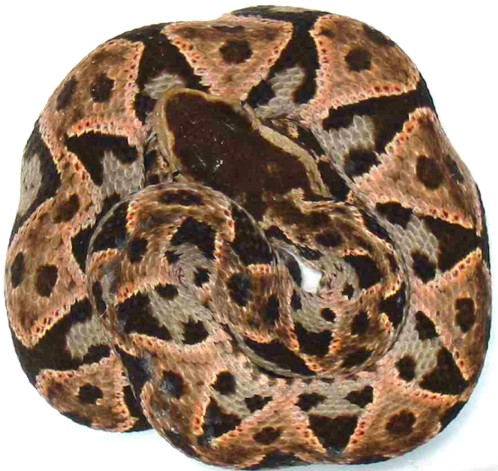 Cb Neonate from Costa Rica Siquirres, Limon Province locale. Original photo by Matt Harris
Pre breeding conditioning seems to be quite simple with perhaps not much more than an increase in humidity and several introductions at a slightly lower temp. Bothrops reach sexual maturity at around 1.5 years and are live bearing, annually. Males can mate successfully with several females many times over many months. In a typical breeding season in the wild, aspers will breed approximately in March-May and bear the young in November-December (Caribbean side of Costa Rica) or depending on locale, breed in August-October and young are born in May-July (pacific side of Costa Rica), again these are approx. depending on locale. Aspers can have huge litters and up to 80-100 young have been reported but the average seems to be around 30 or so. Temperatures should be lowered to around to 68-73.5F for short periods to induce courtship. Male combat has been observed in Terciopelos. Typical duration of pregnancy is between 180-240 days. Males usually stop feeding at the beginning of the reproductive cycle, while the female will usually continue feeding into her third month of pregnancy, she will then most likely not feed at all or maybe rarely for about 6 months. Females require increased feeding during the 4-6 months after the young are born to replenish themselves. Females growth will taper off after breeding due to the stress exerted on her body. Also worth noting is what seems to be a common occurrence, a few of the neonates die around 2-3 months of age even if they have been feeding and doing well. While I have not had the pleasure of breeding them yet (next year will be the first year that our males will be mature enough to mate) very experienced asper keepers have mentioned this phenomenon to me. It has been suggested that this is just natural selection but perhaps there is some bacterial, environmental, physiological or other cause such as stress, it will be interesting to learn more information about this. Eye infections seem to be common among neonates as well, especially on a substrate that is too moist. This infection will blind them and eventually kill them. Sphagnum moss may well be the most suitable substrate for neonates to help avoid this problem, while closely monitoring how moist the substrate is.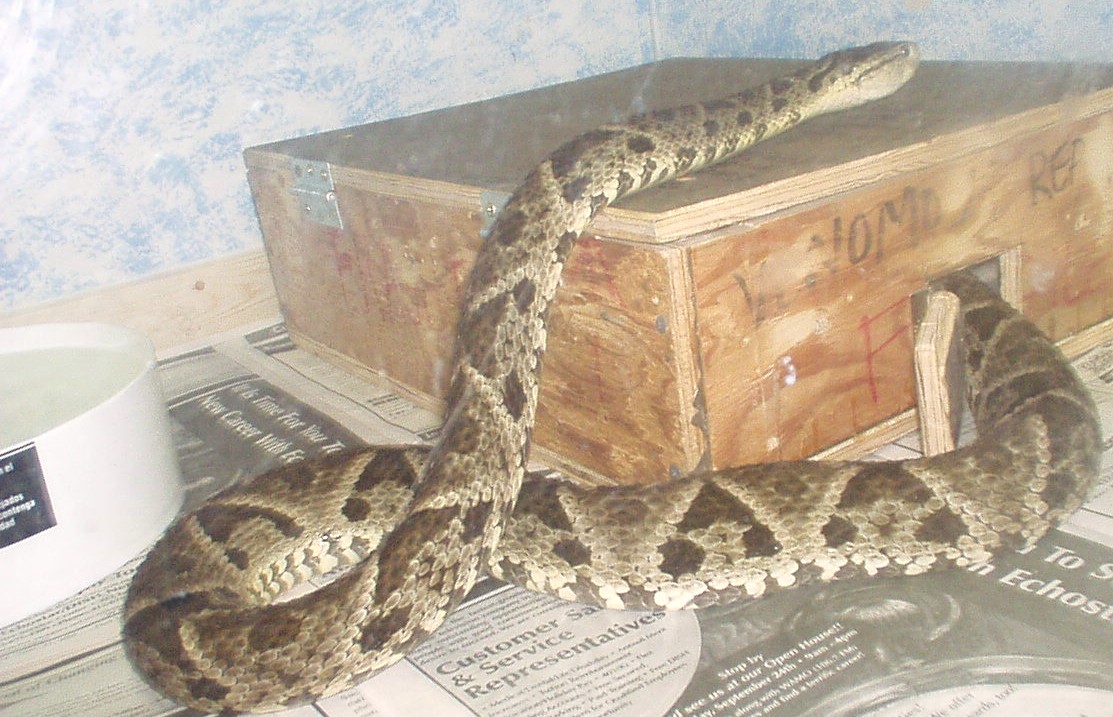 Our new arrival in a quarantine enclosure. We strictly adhere to quarantining our new animals in a separate room and in its own enclosure. Photo by Sierra
Caging requirements aren't very complicated and aspers can be kept very basic. Terciopelos are quite agile climbers as well and love to bask on branches provided for them, however this can also be a hindrance in dealing with them, the more clutter in the cage the more you have to contend with while dealing with the animal. Normal lighting cycles can be used. Temps should be around 76-82 degrees F daytime with a drop to no lower than 68-72 at night and they are prone to regurgitation if temperatures are too high or too low. Also aspers will utilize a basking spot if provided. A once a week misting with an increase around shed time will usually suffice. Although I haven't found humidity to be critical for the adults (our hot room is kept around 60% relative humidity), a friend of mine has had a specimen with difficult and sticking eyecaps…and it can be quite a task to remove them. If needed, soaking may be utilized to help deal with this situation, but in his case it became so severe that it required anesthesia. Aspers drink lots of water so use a large dish to provide it. Pre-killed rodent prey is teased fed and adult aspers aren't particularly fussy eaters. For the most part they don't use their fangs while eating, they kinda walk down the prey item like a python would. Feeding at night may be required for finicky neonates but most adults will feed readily during the day. They can and will consume large amounts of food so caution must be used in maintaining a proper and healthy weight for them. I would recommend feeding neonates proportional meals every 7-10 days and adults every 14-28 days (tip: you can monitor this by carefully charting the bowel movements and this will give you a general idea of their metabolism).
Use caution when purchasing, especially online, many times they are confused with Bothrops atrox (also commonly called Fer-de lance). It is best to avoid purchasing WC asper and the best way to ensure success is to purchase cb neonates and even better if they are at least 6 mo-1 year old (this may cost you a bit more but is well worth it to ensure success). Wc babies tend to be harder to establish and have a higher mortality rate. As well as the need to treat them for parasites. Also another special consideration when shipping aspers is that if the knot in the bag or pillow case is resting on the snake's head, it can actually stress the snake into placing its head under its body coils and cause suffocation.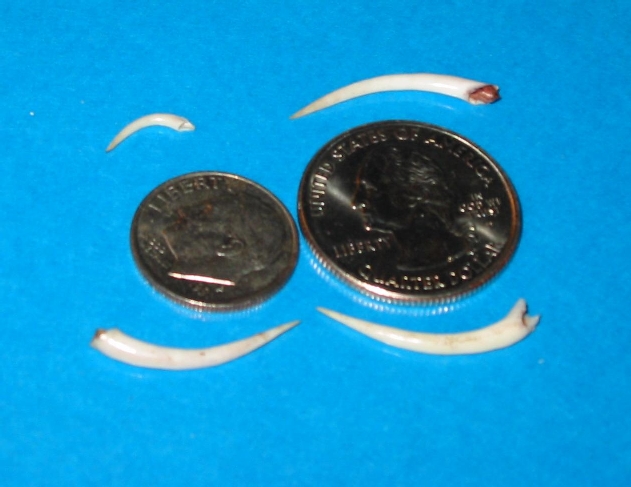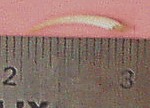 The upper left above the dime is a 3 foot Crotalus h. horridus fang. All others are various B. asper fangs (largest is around 1 inch)
photo by Sierra
Aspers also have huge fangs, with an adult length of around 1 inches in large females. They also produce large quantities of primarily hemotoxic venom with an intraperitoneal LD50 of 2.844 mg/kg, putting it between Crotalus mitchelli pyrrhus (2.7 mg/kg) and Tropidolaemus wagleri (3.58 mg/kg). The intravenous LD50 is 1.244 mg/kg, the same as Crotalus durissus durissus. However, B.asper's bite has a low mortality rate of only 1-2% even though it has a high venom yield. Although in most cases asper bites don't seem to be life threatening, more information is needed, because most reported bites within its range are bites by smaller specimens. Also people native to the aspers habitat tend to lump all the snakes in the area together in their descriptions (often confusing it with the Bushmaster) so info is unclear on large asper envenomations. A bite from an adult asper would be a bad situation to say the least. Symptoms include, local effects including pain, severe swelling, bruising, blistering, and necrosis. Antivenom is fairly effective, however, tissue necrosis is quite severe and many individuals bitten lose various parts of the extremities. Amputations are common, even in parts of the body away from the envenomation site. For example, several individuals bitten in the upper extremities required the amputation of toes or even an entire foot.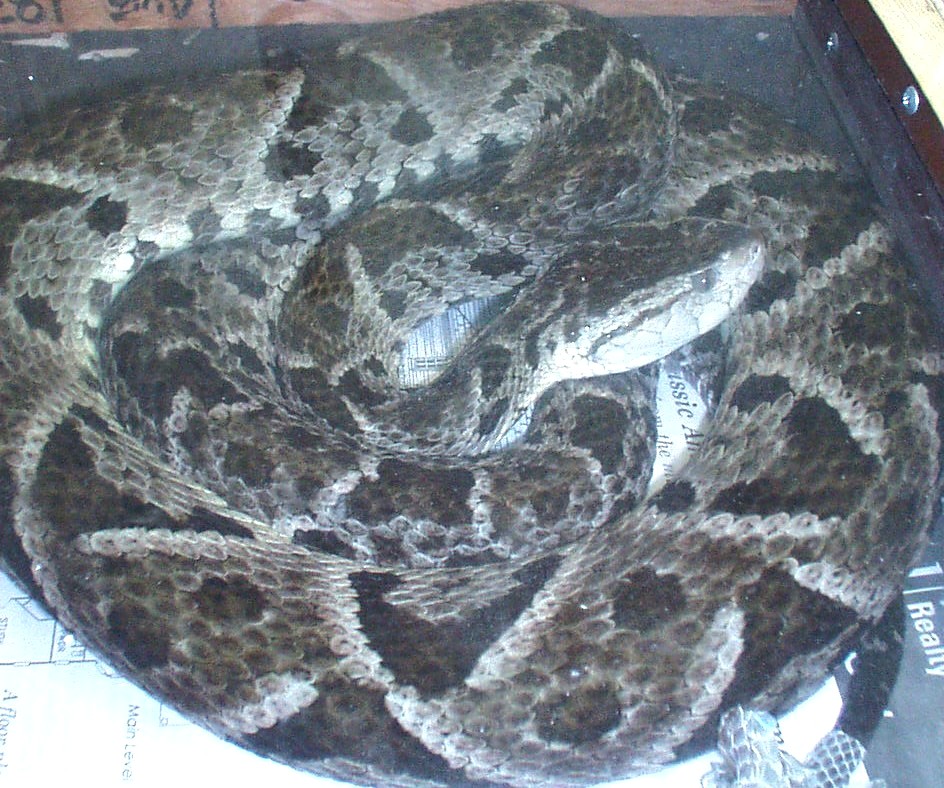 Our B. asper hiding in her shift box. We use shift boxes with a solid opening top and secondary barrier of 1/4" clear Lucite that can be slid back for easy access. Photo by Sierra
In conclusion, the Bothrops asper is one of the most spectacular snakes in the world (at least in my biased opinion). Although relatively easy to maintain, it is an extremely agile and dangerous animal that should be kept only by very experienced keepers. If you plan to add this species to your collection it may be advisable to seek out another experienced keeper to help you to become familiar with them. I would also suggest that you maintain your own supply of antivenom as well as a emergency plan and bite protocol printed out and ready if needed. The Instituto Clodomiro Picado in San Jose, Costa Rica produces a polyvalent antivenom that is effective on Bothrops asper, Lachesis stenophrys, Crotalus durissus which costs about 25.00 a vial and it is more effective than US antivenoms. It may be suitable to keep 15-20 vials on hand. And it goes without saying, use secure caging, preferably within a snake proof room.
I would love to hear anyone else's experiences with aspers, post them in the forum if you'd like to share info on them.
Although not directly related to this article, I might also add that in order to keep the "right" to maintain venomous reptiles as well as all other reptiles, more of us need to take a proactive role in preserving our interests. Get involved and help make a difference. Contribute in any way that you can. And show the community, that we can be a respectable, trust worthy group, and maybe "the powers that be" won't take away our ability to maintain these magnificent creatures.
I would like to give special appreciation and thanks to Matt Harris for his extremely kind sharing of knowledge in regards to this species, he has been great in sharing info, pictures, and tips with me on B.asper for nearly a year….Thanks Matt!!!
Additional source of info: The Bushmasters (Genus Lachesis Daudin 1803) Morphology in Evolution and Behavior. Dean Ripa……. Ripa Ecologica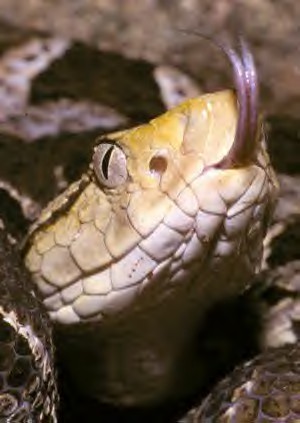 Bothrops asper ( Terciopelo ) from Belize… Original photo copyright © Dr Wolfgang Wuster
Captive care of B.asper
Reply
by asper on July 6, 2003
Mail this to a friend!
As my nickname suggests terciopelo is one my favourite snakes(the others being O.hannah and C.adamaenteus). I found this article really interesting and it has increased my fascination for the species. Though I don't keep snakes, the part on the striking techniques was great.

-
asper

P.S.:- Does anyone of you know a really good resource page on this species? If yes send the URL to SN1987A@rediffmail.com
Captive care of B.asper
Reply
by Venezuelansnakes on July 6, 2003
Mail this to a friend!
HELLO, FRIENDS OF THE HERPETOLOGY, BEFORE EVERYTHING WANTED TO REQUEST THEM YOU EXCUSE FOR ENGLISH BUT I MAKE WHAT I PLEASE CAN IF THEY COME SOME ERROR, TELL ME, SINCE I AM PRACTICING ENGLISH.

AM I DE VENEZUELA, AND DID HE/SHE WANT TO KNOW, THE CONFUSION THAT ASPER EXISTS WITH REGARD TO THE B., HERE IN VENEZUELA, SOME HEPETOLOGYST DE VENEZUELA SAYS THAT IF THERE IS BOTHROPS HERE ASPER IN VENEZUELA, OTHERS Q SAYS IF IT EXISTS, THEY ALSO SAY THAT THERE IS NOT ASPER BUT COLOMBIENSIS, AND THAT THE COLOMBIENSIS WITH THE ASPER, BUT ACCORDING TO THE MAP, OF THE FRIEND WUSTER, DOES SAY THAT?????? IN VENEZUELA, OK THAT SERIOUS A NEW FIELD OF STUDY BUT I SAY THAT IN PERIJA (VENEZUELA) FRONTIER WITH COLOMBIA, IS A VERY GOOD PLACE OF METHOD OF STUDY, IN WHICH CAN BE SO MUCH BOTHROPS COLOMBIENSIS AS BOTHROPS ASPER, SINCE THAT IT IS THE MA FENCE DE VENEZUELA Q B ASPER HAS BEEN REPORTED, DOES HE/SHE ALSO TELL IT THE MAP, PREVIOUS, IN SHORT, THE SERIOUS QUESTION THAT IF IN VENEZUELA THERE IS BOTHROPS ASPER, IT WOULD ACCEPT ITS OPINIONS AND WOULD IT BE VERY GRATEFUL, DO APOLOGIZE
Best resource asper page..
Reply
by sierra on July 6, 2003
Mail this to a friend!
There isnt much in the way of a resource page, but Dean Ripa's Lachesis book on cd has some very good info. Hope this helps...

Sierra
aspers in Venezula
Reply
by sierra on July 6, 2003
Mail this to a friend!
We'll have to bring in WW on this one but when I was putting together the article, he explained to me that it is questionable to find B.asper in Venezula, and that B. colombiensis is a closer relative of B. atrox. Maybe WW can shed some more light on the situation...we did indicate on the map with a ?? in Venezula, because of the lack of solid info.
Captive care of B.asper
Reply
by Sibon on February 10, 2004
Mail this to a friend!
I thoroughly enjoyed the article about Bothrops asper by Sierra. I have had a fair bit of experience with various species of Bothrops over the past 20 years,most notably with a pair of Bothrops asper which I received in a trade with the Emperor Valley Zoo in Port of Spain Trinidad,back in the early '90's. The question as to whether atrox or asper is the species of Bothrops found on Trinidad is somewhat up in the air.Opinion seems to be divided among various authorities,although I can attest that it seems to have characteristics of both atrox and asper. The female was close to 7 ft. in length and had a mellower temperment than that which is usually associated with asper. The male was a lot smaller, only about 3.5ft and was also fairly mild tempered. In my experience this is a characteristic of Bothrops atrox [always allowing of course for individual variation]. The size of the female is more indicative of asper.Colouration and pattern appeared to be intermediate between the two species.I bred this pair twice and raised two of the juveniles to adult size. They were both females and grew to 5 ft plus. They showed more of a asper type temperment than either of the parents. If anyone has had any experience with Bothrops from Trinidad which is similar to,or differs from mine,I would be most interested in hearing from you.Any comments regarding the taxonomic status of the Bothrops species found on Trinidad would also be appreciated. Regards Grant
RE: Captive care of B.asper
Reply
by CAISSACA on February 12, 2004
Mail this to a friend!
The Trinidad Bothrops is definitely NOT B. asper. Basically, the B. atrox complex populations from the northern edge of S. America (& Trinidad) are quite variable morphologically and genetically, but all are closer to B. atrox than to B. asper, both genetically and morphologically (scalation, pattern, etc.), although they reach the much larger size of the B. asper.

Whether they are simply differentiated populations of B. atrox or make up one (or more) separate species remains uncertain, despite much study.

Cheers,

Wolfgang
Captive care of B.asper
Reply
by HERPNUT on April 17, 2005
Mail this to a friend!
Hello guys,

My name is Luis T. I am a reptile hobbiest from Guatemala, Central America. I now live in Arizona and I can only keep natives. So I am looking to relocate when I get a chance. LOL

Well, B. asper is one of my favorite species as well. I have kept a few high yellow specimens while I live in Guatemala. The common name for B. asper is Terciopelo here in the States, down in Guatemala they call them Nauyaca.

They require a good amout of care in their handeling but mostly a great deal of respect. One thing I do not saw is the fact that some specimens specially captives, allow you to hold them by the head and remain calm. Then all the sudden they will jerk and turn to bite. A frind of mine got bitten like that while preforming a public presentation. Ebarasing huh?

B. asper are feared trough out their range. They are agile and nervous animals. Like stated earlier amputations are common among B. asper bites. But in Latin America they do take many lives.

They also do not live long as they are killed by sharp machetes on sight by rural families and farm workers. They are still very common unlike Crotalus durissus.

I just wanted to point out the the Museum of Natural History of the University of San Carlos. has an old female 27 year old captive in excess of 10 ft long. Last time I seen this animal she was a solid snake, as big as a 8-9 ft Burmese Python.

Any of you guys are producing high yellow offspring from your animals here in the States?

Regards, Luis.
Captive care of B.asper
Reply
by Voided37 on May 13, 2008
Mail this to a friend!
This is probably my favorite article on this site. Must be why I keep rereading it.
Thanks, SHHS!
me
RE: Captive care of B.asper
Reply
by reptiven on May 20, 2008
Mail this to a friend!
hello everybody the actual status for Venezuela is
Bothrops asper as valid taxon Bothrops colombiensis as a sinomy of asper and Bothrops isabelae maybe a valid taxon until new papers will be release any futher information please contact me at www.serpientesdevenezuela.net
RE: Captive care of B.asper
Reply
by btomsheck on March 24, 2012
Mail this to a friend!
Hello,

I'm curious why the species you described were your "favorites"? You wrote that you don't keep any of these animals. This really sparked a curiosity. I have dealt with all of them quite a bit and I am raising a couple of those species you mentioned as I am writing.
They are beautiful, amazing, and can be deadly if mistakes are made.
Captive care of B.asper
Reply
by colmillo on October 21, 2012
Mail this to a friend!
i live on the osa peninsula in sw costa rica and recently (20/oct) caught a female b. asper. she was located right next to a male. is there a way to determine if she is gravid with young? i did not keep the male but found it fascinating when he ejected a stream of venom easily 3 feet!
Captive care of B.asper
Reply
by colmillo on October 25, 2012
Mail this to a friend!
still curious if anyone can tell me how to visually see if a b. asper is gravid. in addition, the locals tell me i'm nuts to keep a b. asper in captivity as they can "call" or signal to other snakes. this begs the question, how DO snakes attract each other? my guess is scent on the ground. my enclosure is elevated and we are also in the middle of our rainy season so i feel okay. i would appreciate any input regarding these queries.
Captive care of B.asper
Reply
by colmillo on October 27, 2012
Mail this to a friend!
hey, i'm no snake expert. really comfortable with them and i respect their successful evolution w/o arms or legs. one week after finding a male and female terciopelo w/i 1 meter of each other and bringing the female back to our cage (relocated the male over 40 meters away)... the male was found in nearly the exact location while on our tour today. we transferred him to her and am watching courtship take place. slow. sexy... kinda expect to hear marvin gaye.
Email Subscription
You are not subscribed to discussions on this article.

Subscribe!
My Subscriptions
Subscriptions Help

Other Captive Care Articles

Jameson's Mamba Captive Care

Captive Care and Breeding of the Monocle

Keeping Kraits

The Black Mamba

Captive Care of the Russell's Viper

---