Pale-headed Snake
from Andrew Michael Peterson on August 24, 2005
View comments about this article!




Captive Husbandry of the Pale-headed Snake

Hoplocephalus bitorquatus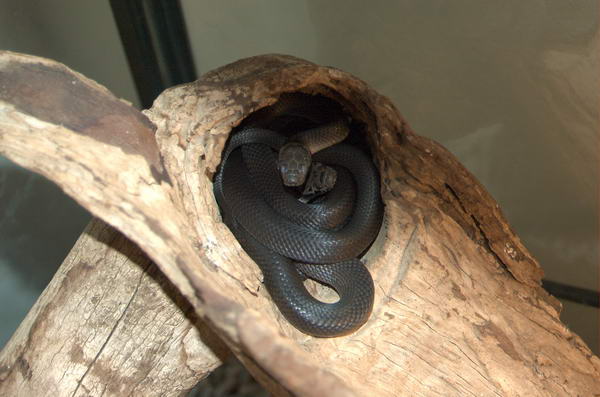 A lovely pair of Pale-headed Snakes. Photo by Ben O'Malley
The Pale-headed Snake, Hoplocephalus bitorquatus, is a relatively small Elapid snake from Australia. Arboreal by nature, it inhabits a range from the Central Coast of New South Wales, and up to 300km inland, stretching up to Central Queensland. It is also known from isolated pockets in Eastern Far North Queensland. It belongs to the group of Elapids known as the "Broad-headed Snakes", all of which are in the genus Hoplocephalus. Other species in the genus are the Sydney Broad-headed Snake, Hoplocephalus bungaroides, and the Stephen's Banded Snake, Hoplocephalus stephensi.
The Pale-headed Snake averages about 750mm adult size, but has been known to reach almost 1m in length. It is nocturnal, and hunts for lizards, frogs, small mammals and other snakes.
Not much toxicology work has been performed for this species. It is suspected to be of similar toxicity to the Stephen's Banded Snake, which has an LD50 of 1.36 - much more toxic than any Australian blacksnake species! Despite this, both species have very short fangs and a particularly low average venom yield, and whilst that is a saving grace, no bite should be ignored - all three Broad-headed species have been known to produce very serious effects. One death has been authentically attributed to the Sydney species. The venom is predominantly neurotoxic, with a powerful procoagulant ingredient.
This species is gaining in popularity, particularly in the NSW hobby. This is largely owing to its status on the complex licensing system in NSW for venomous reptiles. The venomous snake licensing format allows hot herps in three categories, according to the danger the animal poses. Category 1 includes "potentially dangerous" species, such as the one discussed here. A Category 1 animal must be kept for 12 months or more, before the licensee can upgrade to Category 2. As Category 1 is a very short list, there is limited choice. When I went to move onto Cat 1, I was after a Collett's Snake, but there were none available at the time, so I ended up with a pair of juvenile Pale-headeds. I am glad I did!
I am not familiar with the status of the species in overseas collections, but people, where there's a will, there's a way - seek it out and enjoy it!
The Pale-headed snake is easy to accommodate. Being arboreal, surface area of the cage is insignificant, when compared to height. The taller the cage, the taller the branches you can offer your snakes. Substrate should consist of low-maintenance material. I use pelletised recycled newspaper, as faeces may be easily removed in clumps, allowing the rest of the substrate to remain. Understandably, newspaper sheets are thus inappropriate. Some branches and leaves are desirable. Leaves should be synthetic to reduce maintenance, and branches should offer nooks and crannies for the snakes to take refuge in. Driftwood pieces are great, but take care not to offer a piece that makes the animal inaccessible, should you wish to handle it. They will drink from a water bowl, so make sure there's one available.
Heating is a cinch. If the cage is indoors (which it should be), there's no need to apply heat at all. This species lives in areas that can drop to 2°C. Whilst I do not recommend you try that temperature, standard indoor temps are adequate enough.
Juveniles are tiny. I've seen bigger earthworms. However, don't be fooled - they can get a pinkie down, no fear. The trouble is that they may not instinctively adapt to pinkies for a first meal. This can usually be overcome by scenting a pinkie with appropriate lizard scent. Once adapted to accepting pinkies, Pale-headeds are voracious feeders, taking the various sizes of mouse, according to their length. Once onto "hopper" mice, you can also offer rat pups.
They are known to cannibalise, but this is uncommon. Ideally, if housed together (not recommended) they should be at least fed separately.
Keep handling to a minimum. This is an aggressive, volatile species, that will not hesitate to bite when it feels threatened. Generally, when I've had to move them, it's been fairly easy to get them to rest comfortably on a hook, while being moved to a holding container, bag, etc.
Their strike is accurate and quite fast, with a decent striking range for the animal's length. Do not underestimate this species. I took a hit from a 20cm juvenile and while I survived it without antivenom, I suffered intense headache, temporary blindness, excruciating local pain and altered coagulopathy for about 10 hours. Imagine what a full dose from a big specimen would do!
Mating begins quite early in the cooler months of the year (April-July in the Southern Hemisphere). Gravid females gestate for quite a while, and give live birth to 5-11 young, usually between January and March (Southern Hemisphere).
In closing, I recommend this species to anyone inclined to keep it. It's a fascinating creature, with much ease of care and a very lively threat display. I look forward to housing it for many years to come!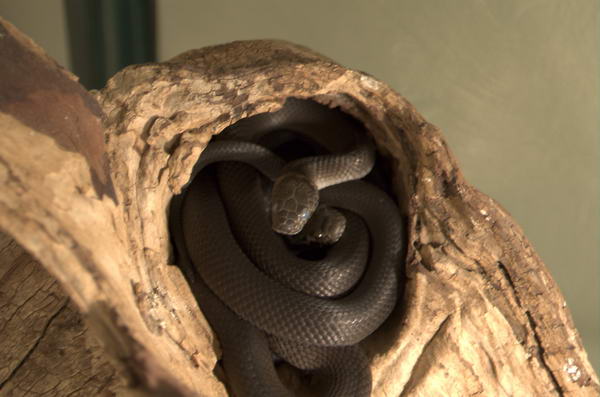 Up close and personal. Photo by Ben O'Malley.
Pale-headed Snake
Reply
by clintox on July 12, 2006
Mail this to a friend!
Despite what limited venom studies on Hoplocephalus spp. snakes might show, the predominent effect in bitten humans is defibrination coagulopathy, which can be severe, is potentially life threatening, and appears to respond to CSL Tiger Snake Antivenom, though large doses may be required. Paralysis is not a feature of envenoming by these snakes, based on an incresingly large case experience across all three species. Refer to www.toxinology.com for more information, including the CSL Antivenom Handbook in the non-subscriber section of the site.
RE: Pale-headed Snake
Reply
by konaron on September 6, 2006
Mail this to a friend!
About two weeks ago I ran Collettes Snake on the net, and came up with a fellow trying to sell one. I will try again and see if I can bring it up if you wish.
RE: Pale-headed Snake
Reply
by Abby on April 16, 2010
Mail this to a friend!
I live on the Central Coast of NSW
Recently I lost one of my chooks which died suddenly without apparent cause.
Yesterday I spotted one of these snakes in my back yard.
I am unhappy it being there - how can I make it go away or get rid of it?
Email Subscription
You are not subscribed to discussions on this article.

Subscribe!
My Subscriptions
Subscriptions Help

Other Captive Care Articles

Jameson's Mamba Captive Care

Captive Care and Breeding of the Monocle

Keeping Kraits

The Black Mamba

Captive Care of the Russell's Viper

---