I Should Be Dead
from Daniel Duff
Website: http://www.georgiatimberdens.org on November 21, 2007
View comments about this article!




"I Should Be Dead"

by Peter Jenkins

In the beginning, it was my every intention to keep this a secret since very few people knew about it. I am embarrassed to disclose something I have worked so hard to prevent. But the scars on my hand and arm are a sinister reminder of a mistake that nearly ended my life. I am further moved to tell my tale in light of a recent death in White County, Georgia of a man bitten by a timber rattlesnake Crotalus horridus - the same local that put me in the hospital August 12, 2007. For the sake of brevity and entertainment I will refrain from quoting my medical record and mind numbing stats.

Expletives flowed from my clenched teeth, the likes of which haven't been uttered since my time in the Navy. Like still-frame images, I remember looking at my hand after feeling an unusual and slightly painful stabbing sensation. The sight of two holes, oozing blood and urine colored venom sent my heart well into my throat where it prevented me from calling to my wife, or my visiting friend, Blake.

The angry black timber rattlesnake hung out of the cage flicking its tongue rapidly, and literally staring at me with fixed golden eyes. I took the handle of my snake hook and gently pushed her back inside her enclosure then walked slowly and methodically toward my outdoor water spigot. I could already feel a numbing sensation in my lips, head, and arms and each step I took got clumsier and clumsier. "I've been bit," I muttered calmly to Blake as I passed by him. He knew by my demeanor that I wasn't joking: I would never joke about being bitten.

Figure 1 The female, black phase Crotalus horridus that put me in the ER.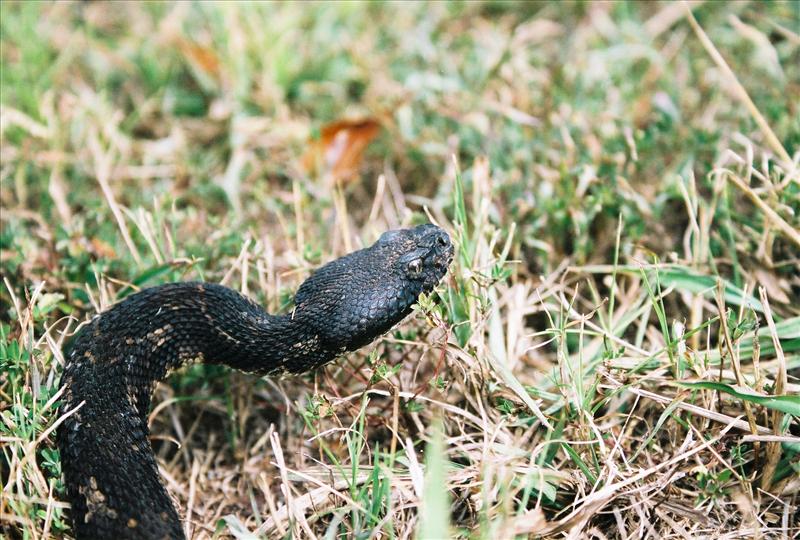 My dog lovingly and tenderly licked my face as I washed the bite under the cool water, it was as though he could since the severity of my condition. I tried to press as much of the acrid cocktail from my hand as possible. It was six o'clock in the morning on a Sunday and Blake knew the roads would be nearly empty, So Blake, his wife, my wife and I all piled into Blake's pickup truck. My sweet wife looked pale (a color that I had taken on as well, but would soon turn green... literally.) In an effort to conceal my agony I cracked a joke, "the venom is making my balls tingle." Minutes later however, I lost all sense of humor and began to feel heaviness in my chest, metallic tasting saliva, and a tingle that took on such violence that I felt like I was lying on a novelty motel vibrating bed. Swallowing became a challenge, and I felt vomitous. My vision distorted, making the world look as if I were viewing it from behind a narrow, dusty porthole. I eagerly awaited my arrival at the hospital.
Blake's wife called 911, who in turn, told us to call the ER, who, when contacted asked why hadn't we called 911? Blake grabbed the phone from his wife's hand and assertively told the nurse on the other end, "You need to prep antivenom now!" He hung up and continued driving down 85 South at speeds over 100 Mph. Lack of traffic allowed for safe disregard of traffic signs. My hand was now thoroughly swollen especially at the knuckles, and the wound still bled freely.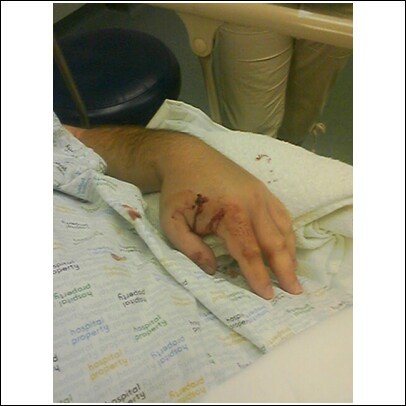 When we arrived at the hospital, the staff was ready with a wheel chair. When I tried to get out of the truck under my own power and was unable to do so, I knew I was in trouble. Blake had to pick me up and place me into the wheelchair; I was as helpless as an infant. Sweat had been dripping down my face and the rapid ride in the wheel chair produced a pleasant, cool and comforting breeze. I remember people smiling at me like in one of those bad dreams where you are naked and about to deliver a book report at school; I thought they were laughing and ogling at me. My vision was fuzzy, or dusty like the windshield of a truck that had been driving speedily through the desert.
On the table in the trauma center, I had all kinds of medical personnel poking and grabbing my sore and swollen hand. My temperature was taken, it was 103 degrees F, but I felt much hotter than that. Approximately thirty minutes had passed between the envenomation and my arrival at the ER. My wife lovingly stroked my hair and reassured me she wasn't going anywhere. This peaceful state quickly vanished when an obnoxiously loud and arrogant doctor came in and proclaimed that he suspected a "dry bite." I began to protest, but was later told no one could understand my mumbling. Blake stepped in and told the doctor he needed to start me on Crofab, quickly! The doctor, in all of his infinite self indulgent wisdom, kicked Blake out, whereupon he then picked up the poking and prodding where the nurses left off.
I looked directly at him and then spewed blood and vomit all over his feet. Now my memory of every event is sketchy, but I remember Blake came back with another doctor and my current physician apologized for sending him out. As I continued to vomit a chemical tasting, thick red fluid, an overweight, clown of a nurse exclaimed, "This is the part about being a nurse I hate!" She was kicked out and replaced with a much more professional, male nurse. He held a small paper bucket for me to heave into; all manner of people held me down as I tried to sit up and rip my clothes off in an attempt to breathe better. They commenced disrobing me until I was naked, and despite the natural bitter cold of a hospital, I felt quite warm.
My wife and Blake had somehow gotten rid of the know-it-all doctor and brought in a physician who started me on six vials of Crofab. My mouth was dry and tasted of vomit, and I begged for water, which they refused me due to the pending possibility of surgery. Instead a female nurse stuck a wet rag in my mouth, but quickly took it away from me as I eagerly sucked water from its spongy fibers. I remember tasting the blood seeping out of my gums while sucking on that wet rag, this was approximately 45 minutes after the bite. My next vivid memory was of being moved around and sat up for a chest XRAY, which I protested against vehemently. I could hear my heart rate monitor responding to my pain of being manipulated.
My catheter was taped securely to my leg before transferring me to a gurney for the move to ICU; I have no recollection of the catheter being inserted which is probably for the best since its removal was less than pleasant. Hours later I was able to talk, but in a drunken, slurred tone. My wife and family, wanted Chris Harper to be contacted, but my nurse, who was initially bitchy, refused to summon my presiding physician. She adamantly explained that he would not consult a mere paramedic, but my wife persisted, and we finally got our way.
Donor blood was being fed into my body to raise my depleted platelet count, which was below 10,000. I am not aware of the severity of that number, but it was delaying my fasciotomy surgery (a procedure I regret agreeing to). Despite the possibility of not even needing the fasciotomy I signed the waver and at midnight, Aug 13, 2007, I went under the knife. I did so because to the best of my knowledge I really needed it. No one with significant knowledge was available to protest on my behalf and I really didn't want any permanent damage to my arm due to the bite. I will never know if it was unnecessary, but at least I was in the hands of a good surgeon. He was very intelligent and humble, and stuck around to answer any questions my family had.
When I saw my anesthesiologist, a feeling of dread crept over me; he looked like he belonged in a butcher shop, or in a motorcycle gang. I remember looking around frantically for a familiar face. I didn't want to be alone with this guy. I think he picked up on my anxiety and began to boast of his skills; I still didn't want to be alone with him! My wife waited in the lobby for three hours while the surgeon removed my carpal tunnel, and made two incisions on the top of my hand. An additional two hours were needed to splay open my forearm. I don't remember very much else about the next three days I spent in ICU. I was in and out of the deepest, most restful sleep I have ever had. I do remember getting breakfast the morning after of my surgery, which was a Monday. I ate only the biscuit, but drank insatiably.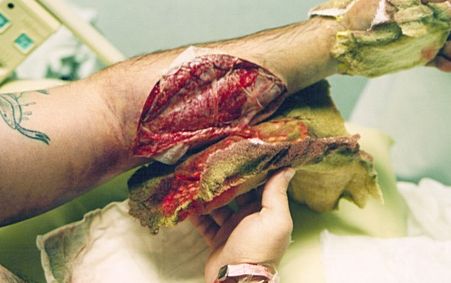 Blake and friend, Johnny Hester came to visit me on Wednesday. Johnny came bearing gifts - a book entitled The Snakebite Survivors Club - a membership I could have done without. I just wanted sleep the whole time, but naturally I was bugged by a whole slew of nurses throughout the night. Not one of which could find a vein if it was the size of a swollen fire hose! My arm with the IV's hurt more than the envenomated arm.
I can't remember the exact amount of Crofab I received. The last number my wife recalls is 22 vials, administered over four days while in ICU. When I was finally moved me into a regular hospital room, it proved to be the most uncomfortable night of my stay at Gwinnett Medical. I had an annoying Russian, female nurse, who looked like Rosanne and walked like a penguin. After a sleepless night, I waited eagerly to be discharged on the following day. Each physician who was involved in my treatment one by one came in and gave the ok for my discharge. I also remember having to deal with constant "the only good snake is a dead snake!" comments. All I could do was bite my tongue in bitter disgust of the ignorance, these seemingly educated people displayed. One nurse even made the assumption I was trying to milk snakes and interjected that no lab would even buy venom from me. I did get short with her, and told her to "get out of my room, and make her silly assumptions with some other patient!" She left.
My surgeon was the last physician to see me before my discharge. He cut open the bandaging on my envenomated arm (left) and the ghastly sight beneath horrified me. I don't mind gore in general; I hunt and clean my own game, but this was personal. I could see inside a part of my body that was supposed to be covered by skin. I turned my head and my wife snapped photos, my exposed muscle and tissues fascinated her. I called her a pervert and the doctor chuckled. I was relieved to have survived, and anxious to get home to the new recliner my wife had bought for me.
The events that followed were: one more surgery to close my arm, and lots of physical therapy and pain medications. As I write this account on Oct 20, 2007, my left hand is still swollen and at times very sore. I was sick for nearly a week after leaving the hospital and even called Chris at times to express concern.
In summary, it is wrong for a venomous snake keeper to assume he is likely to be bitten as a result of "occupational hazard". Amongst my peers I have been known as a very safe and responsible keeper, often times taking safety to extremes. This is one of my more shameful and humiliating life lessons - one that a White County, Georgia man, recently is no longer alive to share. Very little literature discusses the denning populations of timber rattlesnakes from Georgia, and there is even less citation concerning their venom composition. My scars will serve as constant reminders of a mistake that nearly ended my life.
Figure 3 Georgia locality Horridus.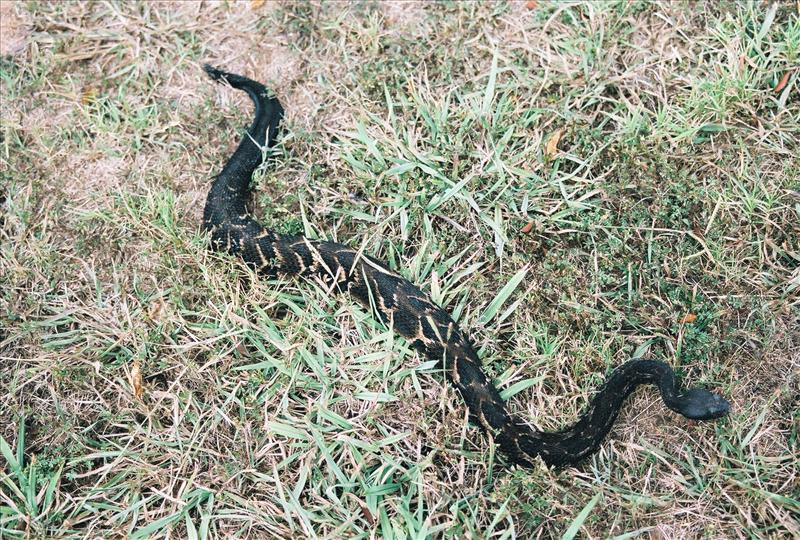 Georgia Timber Rattlesnake
I Should Be Dead
Reply
by SerpenXotics on November 21, 2007
Mail this to a friend!
man well put I really learned alot reading your story.the detail you went into about the symptoms was unreal. thanks for biting the bullet and telling us the story you wanted to keep under wraps.
Joe Lesh
I Should Be Dead
Reply
by Ptk on November 22, 2007
Mail this to a friend!
Good story and a good reminder, but an unfortunate lesson. I wish you would have told more about what pre-empted the bite. Were you feeding? cage cleaning? misjudged strike range?

I am glad you ultimately got the help you needed and seem to be recovering.
RE: I Should Be Dead
Reply
by Peter84Jenkins on November 22, 2007
Mail this to a friend!
I was actually getting ready to pack her up and take her back to the den. The doors to her enclosure jammed…wouldn't open more than four inches because cypress mulch got jammed in the track. I got complacent and thought the litter guard plus her distance from my hand would allow me to safely pick the offending mulch from the track. I was wrong! A vary dumb thing to do.
I Should Be Dead
Reply
by agkistrodude on November 24, 2007
Mail this to a friend!
Thats exactly why I got rid of all my cages with sliding doors. Good article. Glad to hear your doing well. Take care, MartyM
RE: I Should Be Dead
Reply
by krz on November 24, 2007
Mail this to a friend!
Thanks for telling your story. Accidents happen. With that said. The surgery on the bite does not appear to be needed and will add to your recovery time and damage. Did the doctors measure pressures and if they did what were they? Surgery is rarely if ever needed to treat snakebite envenomations.
Hope your recovery goes well.

Jim Harrison
RE: I Should Be Dead
Reply
by GREGLONGHURST on November 24, 2007
Mail this to a friend!
Peter: That is a very well written article. I am of the same group as Jim in that I firmly believe that virtually all of the fasciotomies performed as snakebite treatment are unnecessary, but there is seldom much time to make that decision.

During my treatment for a bite from an A. piscivorus, I refused a fasciotomy firmly enough that the surgeon backed down & measured the compartmental pressure instead.

Surgery or not, I am really glad that you survived the bite. May you never have another.

~~Greg~~
RE: I Should Be Dead
Reply
by Chris_Harper on November 24, 2007
Mail this to a friend!
I phone consulted on this particular bite and explained the criteria for the fasciotomy (Strkyer intracompartmental pressure monitor >30m/Hg for 2hrs), and was told that the surgeon said "We won't be doing that."

Additionally, I was told by the ER doc that "He says he does these all the time for snakebites".

I eventually put them in touch with CroFab's Emergency number so they would quit wasting time, 87SerpDrug.
RE: I Should Be Dead
Reply
by Peter84Jenkins on November 24, 2007
Mail this to a friend!
Chris did talk to my physician about doing the stryker test but as Chris said he refused. The reason he gave me and my family is that it would have been "unnecessary pain" and as a hand surgeon he felt it was best not to do the stryker to avoid damaging some of the many nerves and tendons because the compartments in the hands are vary small. I would have refused a fasciotomy if I knew then what I do now. I was vary drowsy I kept falling asleep and my wife and mother felt that the doctor knew what he was doing. I am sure had Chris been there in person I may have gotten out of there without any scars. Chris did his best for me via the phone. My wife and mother were scared out of there wits but I have instructed them to be more verbally assertive if God forbid I ever endure another bite. Thanks for all of the positive comments I feel better now about putting my story out on the "table". Stay safe.
RE: I Should Be Dead
Reply
by Peter84Jenkins on November 24, 2007
Mail this to a friend!
I wrote this the way I did because I wanted to invoke a bit of my fear into someone who hasn't been on the hospital bed with the vary real possibility of dieing from a hobby I choose to engage in every day. Lots of newcomers are told to look a snake bite photos before jumping in. Yeah pictures can be gross and awe inspiring but if my words could invoke even the slightest raise in heart rate and or a lump in your throat I think it hits closer to home. That's why I made it into a story rather than a medical record. Thanks for the comments.
I Should Be Dead
Reply
by venominme on November 26, 2007
Mail this to a friend!
It is quite stunning how some bites are so severe and have such immediate effects while others are so much less. Are we sure this is not some additional allergic reaction taking place with these "passing out" type bites? Is this what happens when you get it IV instead of SC? My single fang diamondback bite landed me in the hospital for four days and I turned black from my toes to my lower back, so I always assumed I had a fairly normal (half) envenomation. I thought I had it pretty bad at the time, but now I can see I think I got off easy. I don't recall any sweats, lip tingling or any of that, and was quite normal except for the swelling and stinging sensation, which followed the swelling all the way up. After stories like this and Ray's bite, I'm starting to think maybe I really didn't get severely envenomated, something I would have never thought I'd say about it. Really important to share the story- thank you.
RE: I Should Be Dead
Reply
by Chris_Harper on November 26, 2007
Mail this to a friend!
In this case, he was bleeding from the gums within 45 minutes, an ominous sign. Additionally, I am aware of at least 6 other bites where the patient's blood pressure plummeted within 15 minutes of the bite, and only one of them was a venomous keeper. Since it is necessary to a previous exposure to have a true allergic reaction, the most likely scenario for these is a venom component which causes the blood to drop. There are other components that directly cause angioedema, (i.e.swelling of the tongue and airway etc.). In combination, these effects will look virtually identical to an allergic reaction. The treatment is quite different however.

CH
RE: I Should Be Dead
Reply
by SCatheris on November 27, 2007
Mail this to a friend!
I can only imagine the feeling that comes over you after you realize you just made that big of a mistake. That's a beautiful timber btw too bad shes not too friendly...
RE: I Should Be Dead
Reply
by submariner on November 28, 2007
Mail this to a friend!
how much was the hosp.bill and does most insurance co.cover this if they know you handel and keep snakes as a hobby
I Should Be Dead
Reply
by Phobos on November 29, 2007
Mail this to a friend!
Peter:

Nicely told story. I have the following comments.

C. horridus is a very under-estimated venomous snake. It's venom is one of the most potient platelet aggregators known, as seen with your serious shortly after your bite. Sadly CroFab is not very active in neutralizing Horridus venom as other venoms of the covered species. Therefore much more is needed to counteract a typical bite.

Dr. Findley Russell, MD and I had a conversation about Fasciotomies. He said they were mostly a big money maker for the Hospitals and the surgeons, requiring months of skin grafts & wound treatments long after the bite has healed. Besides, who (what doctor)in their right mind cuts into a patient with severe coagulation issues and declining renal function. It's really asking for severe complications, far above the danger of the bite itself. They put $$ before their oath: "First, do no harm" goes right out the window.

Snakebites are bad enough, I know from experience having been chomped by a C. horridus myself but having to put up with ego driven, pompus MD's is an additional life threating situation to deal with when you need it least. I too experienced this type of physician, fortunately my sister is a nurse as got this jackass quickly removed from my case.

I would gladly have Chris Harper or any of the guys from Venom1 (Miami Dade) supervise my care. I'll take experience over "paper degrees" anyday. With this said, there are MD's & PharmD's that are specialists in this area and can run interference when contacted early on. These people are the leaders in the field and a blessing to have when you need the best.


What to do:

1)Have a copy of Dr. Richard Dart's (Director, Rocky Mountain PCC) medical publication on why Fasciotomies should not be done. Keep this with you emergency snakebite protocol book.(I have this is you want a copy)

2) Have someone who you trust and knows about snakebite treatment to be your advocate and advisor to your spouse/partner, if you cannot act in your own behalf. They should use your emergency book contact list to locate other resources and personel that can consult with the local physicians. Don't trust the local doctors with your life. I've seen too many local ER staff say they have A/V in stock for non-native snakebite treatment..hahahaha, yeah right! I usually politely tell them "pissing" on the bite will be about as effective as the wrong A/V and at least won't hurt the patient. No, I don't mince words when somebody's life is at risk. You have to take charge and be aggressive or you will pay the price both in physical harm and higher medical costs.

Good Luck,

Al Coritz
www.deadlybeautiful.com
I Should Be Dead
Reply
by RepFan on November 30, 2007
Mail this to a friend!
Daniel,
Excellent article! Sorry you had to go through the whole ordeal, but thanks for sharing your story. We all can learn from this and have a more hardy respect for the charges we keep.

~Todd
I Should Be Dead
Reply
by SouthernWolf on December 2, 2007
Mail this to a friend!
I appreciate your decision to share your story. I am not new to herps (been keeping herps as pets since '91) however I am new to keeping 'hots' so any information that I run across I try to remember it and also what let up to it.

In this case I am glad that you posted what you were doing at the time of the bite. Now the one thing that sticks in my head.... is ALWAYS use tools.

Thanks again for shareing.
I Should Be Dead
Reply
by FSB on December 25, 2007
Mail this to a friend!
It's interesting to me that snake bites elicit so much more horror in the general populace than any other type of animal bite. I'm sure that, historically, this is due in part to the fact that even some very small snakes, especially certain elapids, are capable of delivering a bite that, while minimal in terms of any visible physical damage, can cause rapid death. This ability must have been particularly shocking to early peoples, resulting in snakes being viewed as having almost supernatural powers.

Of course, as we see from photos such as these, some snakes are certainly capable of causing massive and visible tissue damage and trauma around the bite.

However, I work at a vet clinic and regularly see the results of dog bites inflicted on other dogs, and the damage is regularly every bit as horrible and visible as what is depicted in these photos. We currently have a German shepherd here in the hospital that looks as if he had been skinned from just behind the head to his shoulders. Another dog, a very large female Rottweiller, was so badly mauled by one of her own adult pups that she died on the operating table. This dog was literally so covered in blood that you couldn't tell what color she was (white). I can easily imagine the damage that such teeth and jaws could inflict on human flesh, if so inclined, and treat the dogs here with as much respect as I do my rattlesnakes.

Often, when I begin a snake lecture with a very docile boid of some sort draped around my neck, I am asked "Why doesn't that thing bite you?" as if biting is an automatic and unavoidable behavior for snakes.

I usually respond by asking if the questioner owns a dog. "Does your dog normally bite you?" The answer being almost certainly "no," I then point out that all dogs are equipped with very sharp teeth and powerful jaws, and that any dog is CAPABLE of delivering a very serious bite, but most of them don't. The point is that just because an animal has the equipment to inflict a bite doesn't mean that it is inclined to, i.e., being well-armed doesn't necessarily imply malice. I believe that most snakes don't want to bite us, and would much rather avoid any confrontation with such a large and formidable adversary as a human.

The last thing a captive venomous snake wants to do is bite its keeper, whether the snake actually realizes this or not. In the big picture, such an act is likely to seal the snake's doom, since it is unlikely that anyone but the keeper is really going to care about the snake's welfare in such a situation, and most other (sane?) people will probably call for the "offending" snake's destruction (along with the rest of that unfortunate keeper's collection). It is our job to ensure, not just for our own sake, but for that of the snakes, that this does not happen. Do not take chances!

Yet, what amazes me is the horror that people, many keepers included, of being bitten even by a non-venomous snake. To me, this is just a non-event, except perhaps for large, long-toothed boids.

Non-venomous snakebites are by-and-large just so superficial and ineffective that I almost feel sorry for the snake and its puny efforts to defend itself. Next to a dog or cat bite (which ALWAYS become horribly infected), NV snake-bites are just nothing. I've had far worse from briars or household scrapes and cuts.

Perhaps this horror of ANY snakebite, venomous or non, comes from the fact that biting is really a snake's only available form of ACTIVE defense, that is to say, a form of defense that inflicts any damage, however minor, upon an assailant. With no limbs, they are incapable of clawing or scratching, and while many snakes resort to unique (and perhaps repulsive) defensive behaviors such as hiding, musking or playing dead, these are all PASSIVE forms of defense. (I am really unaware of constriction being used defensively, at least in a conscious way).

I am very interested in the phenomenon of ophidiophobia, which is always at the top of any list of human fears (just above public speaking). How many people are really going to encounter a seriously dangerous snake in their daily lives? To my mind, ophidiophobia is a major worldwide health problem in terms of the loss of productivity and quality of life that it imposes upon its sufferers, for no good reason. I have known people who are terrified of walking in the woods or going fishing becasue of snakes (while they think NOTHING of driving 200 miles on the interstate, a far more dangerous activity). We should all be doing our utmost to combat it. So much evil is caused by the ills that never happen.

Many "snake shows" capitalize on this supernatural fear, to the benefit of the showman's ego, who makes himself look as if he is performing some superhuman, death-defying feat by handling snakes. I am continually trying to undermine this approach with my own lectures, by demonstrating how even potentially dangerous snakes are not inclined to bite, and that most snakes are utterly harmless animals with bites less painful or damaging than that of an average parakeet (which can deliver a very painful pinch!). The snakes in my presentations are not refraining from biting me because I have some supernatural powers, or because I am preternaturally "brave" or daring (hell, I hate to fly!)... they are refraining from biting me because THEY DON'T WANT TO!

Best regards to all-

FSB























Glad you're not dead
Reply
by guttersnacks on January 8, 2008
Mail this to a friend!
Peter,
Wow, I'm deeply moved by your story. It's altogether scary and amazing and heartwarming. If I take anything from you sharing your experience, it's the reality check for myself and getting my guard back up to 100% if by chance, over the last few years I've let it slip down even to 98%.
Thanks for sharing. I hope by now remnants of the bite are gone, excluding the physical scars of course. Thats a hell of a way to convince your wife you need a new recliner LOL.
RE: I Should Be Dead
Reply
by Peter84Jenkins on January 9, 2008
Mail this to a friend!
Thanks for your comments. My wife has liberated the chair as of late. There are scars and still a vary faint swelling in my left index finger knuckle. I was only able to pop or crack that knuckle last month and boy it felt great! Thanks again.
RE: I Should Be Dead
Reply
by greenlizard on January 11, 2008
Mail this to a friend!
I studied the effects of rattlesnake bites in a pre-med biology class in college. DO NOT listen to anybody who tries to tell you that you could have gotten away without scars had you avoided the surgery. With the post-bite symptoms you describe, you were lucky to avoid a far worse outcome. You had a great result under what were unfortunately very difficult circumstances. Hang in there and thanks for sharing. You sound like you have a great sense of humor and a wonderfully supportive family.
RE: I Should Be Dead
Reply
by Elapids000 on February 10, 2008
Mail this to a friend!
You didn't need the knife. I have refused it many times
myself.I have also refused anti venom when possible so
to not become allergic.I have had some wild times in the Er also.
Bill Haast and his over the phone advise to the doctor helped me in 1993 when I was bitten by a 9ft
blk forest cobra.I took 23 vials,some ours and some from the DC zoo and Philly zoo.I was on a resperator 3 days and a recovery rm 3 more.No after affects at all!
I have tried to be more careful since then and haven't suffered any more bites that required an er visit.
I Should Be Dead
Reply
by scott87 on February 12, 2008
Mail this to a friend!
before i read this i always thought it would be kind of cool to get bit by a snake, what can i say i was a dumb kid.
I Should Be Dead
Reply
by cobra9mm on April 12, 2008
Mail this to a friend!
GLAD TOO HEAR YOU MADE IT THROUGH THAT !! I WAS BIT BY MY ALBINO COBRA SHE WAS SMALL ABOUT 12 TO 18 LONG , I WAS CLEANING HER CAGE SHE TAGGED ME ON THE THUMB , WHAT MOST PEOPLE DONT UNDERSTAND ABOUT SNAKE'S IS MOST BITE'S ARE OF OUR DOING MAKING MISTAKES IT TAKES JUST ONE LITTLE MISTAKE AND THE REST OF THE WORLD LABLES YOU AS CARELESS PERSON !! I WAS WORKING WITH GATOR LAND HERE IN FL AND A LADY YOU MAY EVEN KNOW HER ARE HEARD OF HER TANETH TARA, OUT OF MELBOUNE,FL I THINK I SPELLED HER NAME RIGHT !! WHEN I GOT BIT THE HOSPITAL HAD NO ANITIVENOM AT ALL , I KNEW A GUY WHO LIVED ABOUT 10 MILES FROM THE HOSPITAL SO MY MOM JUMPED IN HER CAR AND RACED TO HIS HOUSE HE HAD THE ANTIVENOM GREAT SO MY MOM RACED HIM BACK TO THE HOSPITAL ONLY TOO GET THERE AND BE TOLD WE CANT USE THIS , MY MOM WAS GOING INSANE FINALY THEY CALLED GEORGE VANHORN AND HE HAD 5 VIALS THAT WASNT ENOUGH , SO THEY FLEW IN ANOTHER 10 VIALS FROM MIAMI ! MY THOUGHT ON HOSPITAL'S AND THE DOCTOR'S AND THERE STAFF SHOULD BE BETTER TRAINED ON SNAKE BIT'S AND HOW TO TREAT THEM AND NOT BE JUDGEMENTAL AT THE TIME I WAS GETTING TREATED DONT START SAYING TO ME WELL YOU SHOULD KNOW BETTER YOU SHOULD HAVE BEEN MORE CAREFULL, SOME OF THING'S I HEARD FROM THE STAFF NEVER SHOULD HAVE BEEN SAID TO ME ! I AM DOING RESEARCH TO HELP IF YOU OR SOMEONE YOU LOVE GET'S BIT. WE ARE TRYING TO HELP YOUR LOVEED ONE'S GET FASTER RESPOND SO THEY DO NOT DIE, AND AS YOU AND I ARE BOTH AWARE WE LOVE WHAT WE DO OR WE WOULD NOT BE DOING IT IF WE DIDNT I WAS AROUND 7 YEARS OLD WHEN I STRATED GETTING IT TOO SNAKES ! I HOPE ONE DAY THERE VENOM WILL CURE AND IF NOT ALEAST HELP CANCER PATIENT'S , I AM LUCKY TO BE ALIVE ALSO THESE HOSPITALS THAT DONT SEE THIS KIND OF THING'S EVERYDAY, (SNAKE BITE'S) !! THERE ARE NO WORDS TO SAY HOW BAD THEY TREAT YOU IT WAS LIKE I MURDERED SOMEONE ,THANK GOD FOR MY MOM SHE TOLD THEM YOU NEED TO GET ON THE HORN AND FIND THIS BOY SOME CROFAB NOW THEY WHERE ALSO READY TOO KICK HER OUT AND THEN AFTER DRIVING AT UNLAWFUL SPEED'S TOO GO PICK THE ANTIVENOM UP FOR THEM ! THEY TOLD HER WE CANT USE THIS BECAUSE WE DONT KNOW THIS PERSON FROM WHICH IT CAME, ON THE BOTTLE'S THAT JIMMY MITCHEL HAD BROUGHT, HE GOT REAL UPSET AND THEY DID KICK HIM OUT OF THE HOSPITAL ALL THE BOTTLE'S WERE LABLED AND IN DATE THERE WAS NO REASON FOR THEM TO NOT USE THE ANIVENOM THEY SHOULD HAVE USED THEM! MY HAND MY ARM WAS GETTING WORSE I WAS GETTING UNABLE TO BREATH ON MY OWN .THANK GOD I DID NOT NEED SURGERY AS YOU DID !! AFTER THEY PUMPED 15 VIALS IN MY THEY TOOK ME TOOK ICU FOR A FEW DAYS AND WAS RELEASED , I ALSO DO SNAKE RESCUE AND I HAVE HEARD THE SAME THING YOU DID THE ONLY GOOD THING ABOUT A SNAKE IS A DEAD SNAKE !! WELL AS I SAID I AM GLAD TO HEAR THAT YOU MADE IT THROUGH ALL THAT YOU WENT THROUGH , FROM ONE SNAKE BITE TO ANOTHER TAKE CARE ,,CHRIS
RE: I Should Be Dead
Reply
by constrictor21 on June 25, 2008
Mail this to a friend!
im sorry to hear about your misfortune do you still keep hots ive considered getting in to hots i own a rainbow boa a carpet python and a 22 yr old ball and 2 2 yr olds plus a worm snake
I Should Be Dead
Reply
by mrmuckle on August 9, 2008
Mail this to a friend!
In 1959, I was bitten twice by a Pacific Coast Rattlesnake - ON THE HEAD! The snake was about a year old, maybe 12" or 14" long, and had one "button".
I had just gotten off my school bus (I was 11 at the time). I raced the bus towards my house on the Palos Verdes Peninsula, So. Calif., and, reaching my front yard, I tossed my books to the ground and did a "slide into home plate" on our lawn. I hadn't seen the small rattlesnake on the grass in my path, and I guess my sliding right over him had really pissed him off. I felt a qiuck "bump" on the top of my head, followed quickly by another. I lay on my back in the yard, and my curosity got the better of me, so I raised up on my left elbow, turned, and was face-to-face with the snake, about 8" apart. I remember letting out a slow, rumbly groan as I realized what had happened. Rattlesnakes were a fairly common sight in our neighborhood, so my mom was not fazed by my telling her that there was a rattlesnake in our front yard. She went to the garage for a hoe, and I, beginning to shiver and shake, went inside to die. I turned on the TV, then went into the bathroom to pour mercurichrome on top of my head. Then I found myself back in my room, on my bed. My mom came in, saying that she couldn't find the snake, but halted in her tracks when she saw me. About 3 or 4 minutes had passed, and my head, she later told me, looked as if I had half a grapefruit under the scalp on top. She let out a smallcream, then headed to the phone to call a neighbor with a car, then called our doctor, who, in return, called USC medical school, which he knew to have supplies of antivenon. As we left our house for the doctor's office, a helicopter was leaving USC with the antivenon. We reached the doctor first, followed by police, which shut down the street for the helicopter to land. (Most of this was told to me a week or so later). I remember a small part of driving to the doctors, then waking up hours later (that night) in a hospital room while nurses applied suction cups to the top of my head (now shaved and revealing the 4 punctures). I slept. Boy, did I SLEEP! I was groggy for several days, and would just "nod off" in the middle of a sentance. After 4 days in the hospital, I went home. On the fifth day, we had a television crew in our livingroom, with me laying on the couch while George Putnam interviewed my parents about the rash of rattlesnakes we'd experienced that summer, in our neighborhood, as the canyon below our backyard was being bulldozed into Hawthorne Blvd., stirring all the snakes up and convincing them to move towards quieter grounds.
I would later wear a baseball cap, and charge my classmates 25 cents to look at the bites. I made about $10 the first day.
That was about the 4th or 5th time I had had a serious "head injury", and not the last - my head always seems to be the target for something...
Anyway, I got several nice letters from across the country, and one from Australia. The neatest letter came from an older woman who recounted the story of her father being bitten by a rattler while crossing the country in a wagon train. He lived, and so did I.
RE: I Should Be Dead
Reply
by svsnakes on September 5, 2008
Mail this to a friend!
I'm sorry to say, welcome to the club. This shows, in my opinion, that if someone is going to keep any hots they should talk to their local hospitals and get them in touch with Venom 1 in order to educate themselves. Glad you came thru it and good luck in the future.
I Should Be Dead
Reply
by shannzgabn on September 11, 2008
Mail this to a friend!
How are you feeling now? I was bit twice by a timber rattlesnake a little over three months now and I'm just anxious for the pain and heat in my foot to be gone.
I Should Be Dead
Reply
by LizzyBorden on December 15, 2008
Mail this to a friend!
I hope after one year you are doing better. This article reminds me of why I will never own a hot snake. I have studied rattlesnake and king cobra since I was in grammar school. The behind the glass at the zoo is the closest I have gotten to hots. I could watch them for hours and hours at a time.
I Should Be Dead
Reply
by satn on January 11, 2009
Mail this to a friend!
Wow, what a story!! I am so glad you are recovering. I found this site by accident and just became a member. I am not a handler, just a ER Nurse,Paramedic who is fascinated by these dangerous yet beautiful creatures. I found your story scarey and educational, thank you for sharing it.
I Should Be Dead
Reply
by RPTEXAS on May 16, 2009
Mail this to a friend!
Is it safe for someone in late teens who is VERY familiar with snakes - had them for 10 years - many of them - to keep a timber rattler if they found one? or a cottonmouth? Someone told me it is not a question of whether you get bit, but WHEN you get bit. And either of these sound like they could kill someone within an hour if the right antivenom is not given by then...what do you say?
I Should Be Dead
Reply
by herpfan4life on July 10, 2009
Mail this to a friend!
Your story is the reason why most hospitols or at least one in every 5 should have a qualified person to handle snake bites. Thank you for having the courage to tell your story.
RE: I Should Be Dead
Reply
by crosby on December 5, 2009
Mail this to a friend!
Peter,
Do you mind if I use your story in a lecture I am giving on bites and envenomations? I am an ER physician and there are a few points that you bring up regarding ER experience that I think we can learn from. I won't use your name and I won't make any money on your story.
Thanks
RE: I Should Be Dead
Reply
by ViperLover on December 7, 2009
Mail this to a friend!
Peter,

You are an extremely lucky guy....thank goodness you're still alive.

What a gorgeous Timber also.

Thanks for telling you're story.
I Should Be Dead, re-written with a new photo
Reply
by Corset on March 26, 2013
Mail this to a friend!
As a nurse, I am extremely disgusted about the unprofessional way that you were treated in the hospital by so many staff.
I Should Be Dead
Reply
by Darianbaehler on May 9, 2013
Mail this to a friend!
Hey Daniel, Darian here. I was bit by a western diamond back rattlesnake about 4 years ago. I was bit twice by the same rattlesnake. It injected fully twice as well. My siblings and a couple friends were walking through the woods home from the park at around 9:30 pm when my siblings complained about not being able to see so I went to the back of the group and passed them my phone and proceeded to go to the front and before I got to the front I felt like I stepped into a thorn bush, something had pricked me on my ankle. Then we all heard the rattle and I felt that same feeling on my ankle. I put two and two together and screamed I just got bit call Dad. I then ran to the opening in the woods and my family was there waiting for me. We all thought I was okay because I was coherent and walking around. We called my uncle who's a firefighter and he informed us that if there was more than one puncture wound to call an ambulance right away. I had 4 puncture wounds. By the time the ambulance came I was already shaking and having a hard time standing. The first hospital I arrived at was Scott and White, while there I started puking and getting the shakes, I was on a constant morphine drip, but I was still waking up every 10 minutes or so screaming and throwing up. Scott and White did not have enough antivenin to fully help me so they transferred me to Brackenridge in Downtown Austin. By the time I got to the second hospital my leg was in very bad shape. It was swollen to the point where they could not feel a pulse. They were going to amputate my leg from the knee down but luckily my mother happened to be there and they said they could try an emergency fasciotomy. I spent 5 days in ICU with my leg cut open they then put me in a regular hospital room. I then had 4 other surgeries to close up the fasciotomy. The venom had ate away a lot of my tissue so when they went to close up the fasciotomy, they had a gap in the skin. They decided to do a skin graft to close the gap. I spent another surgery doing that and then one more surgery for a skin graft for a boil that appeared on the top of my foot. In all I had 33 vials of antivenin and spent a total of 2 weeks in the hospital. It was a crazy experience
I Should Be Dead
Reply
by Bender on January 14, 2014
Mail this to a friend!
I am truly glad everything worked out well for you. Since it has been a while I hope you had a complete recovery

I understand that not all medical professionals are not up to speed especially with non native species, but you have to understand the amount of people we see over time who tell us who they want to see and bring in their own medication. We can't use it unless you are a professional..

It does not make it easier that YouTube is full of people mishandling and mistreating venomous snakes.
Some are even well respected people who should know better.

Lastly using terms like, an overweight, clown of a nurse, he belonged in a butcher shop, or in a motorcycle gang and know-it-all doctor won't win you any friends either.

I have been a avid snake hobbyist for years (non venomus) and have a lot of respect for people working in the field. Keep safe
RE: I Should Be Dead
Reply
by Hiker1958 on June 3, 2015
Mail this to a friend!
I agree with Bender, I found the whiny, petty, looksist commentary to be distracting and unnecessary. This article underscores the importance of patients' rights. Had Blake and his wife not been in attendance, the outcome may have been very different. Having an informed advocate(s) with you can be paramount to survival.
I Should Be Dead
Reply
by BrattyAsh on July 8, 2016
Mail this to a friend!
I have a friend who is fighting for his life in Savannah Ga after being bitten by a tinber Rattler 5 times. Any insight on what helped your doctors succeed in your recovery would be greatly appreciated.
Email Subscription
You are not subscribed to discussions on this article.

Subscribe!
My Subscriptions
Subscriptions Help

Related News & Articles

The Spring Egress: Moments with Georgia's Denning Horridus

---
Other Snake Bite Articles
Lachesis Bites in Brazil: 2 Cases
Snakebite in Sri Lanka
Being Bit By the Big One
---