Keeping Kraits
from Chirag Jyroti Roy on January 6, 2011
View comments about this article!




Captive care notes on Bungarus caeruleus

General description (Bungarus caeruleus):There are six species and two subspecies of krait found on Indian subcontinent, out of which the Common Krait (Bungarus caeruleus), as its name suggests is the most common and probably the most dangerous among all Indian snakes. An elegant snake. Scales smooth. Head distinct from neck. Bluish-gray with white paired cross lines continues till the tip of the tail. Tongue pinkish-red

Scalation: (Smith) scales in 15 : 15 : 15 rows. Ventrals 200-217. Anal undevided. Subcaudals 33-52, Preocular 1, Postocular 2, loreal absent, temporals 1+2, Supralabial 7 (3rd and 4th touching eye).

Geographic location and status: Fairly Common. Mainland India, although no records from the state of Jammu & Kashmir, Hariyana, and extreme northeast. Also found in Pakistan, Nepal, Bangladesh and Sri Lanka.
Bangarus caeruleus, juvenile, Sundarbans photo: Chirag J. Roy
Its unlikely that someone might keep a krait (Bungarus) in his personal collection, but if anyone does, here is how he should do it.
Enclosure requirements: Kraits are true cannibals, so it is advised to keep this species in separate enclosures, not with any other species and even one of its own kinds. All three specimens (one female two males) were kept in glass front wooden boxes, measuring 3ft X 1.5 X 1.5ft. A plastic box of dimensions 10inches X 5 inches as a water bowl. A hide box was provided to give the snake a sense of security. Newspaper was used as substrate and works really well because it absorbs water and fluids very fast. Its better not to put any kind of live plants or soil substrate coz these can bear disease causing germs and ticks. Anything that is introduced in the cage should be properly washed and wiped. Cleaning of cage can be done once a week. Mild disinfectants in highly diluted form can be used to clean up the edges and corners of the box. Sheded skin may draw ants to the cage so removal of the skin becomes a priority. Kraits are absolutely nocturnal. In the wild there are zero chances of one finding a live specimen during the day hours. As night falls these creatures come out in search for ophidian treats. Same goes in captivity, we could hardly see any of those three, but after the lights were switched off they slowly emerged out of their hide boxes and actively started exploring their environment. Babies and juveniles of this species should be kept in plastic containers to avoid any kind of accidents as in these stages they are very agile and have a peculiar habit of making space for itself between the rails of the front glass slide door.
Lighting: There was no provision for lighting in the enclosures and the room temperature was maintained at 95'F. But if you want to see your snake in action at night then a low powered red light is just what you need.
Feeding: Ophiophagus by nature. Also known to take rodents. Though I preferred giving them mice because it is very easily available, the large female sometimes used to reject it. So at times the technique of manipulating odour was used and found to be a success. Two small mice were usually given per week to each snake, although the female sometime took even 3. If two snakes are kept in the same enclosure, then make sure they are both of same size, or else it isn't surprising to find the smaller snake missing from the cage one fine morning!
Breeding: Although I failed to breed them under captive conditions, it would be a real pleasure to know if someone had any success in breeding them. I recently checked with the Thai authorities who had were involved in breeding various species of venomous snakes since 1999 when the project actually started, but it turned out to be disappointing as even they failed to produce a clutch in last 10 years from a different species of the same genus.
Venom: Kraits are among the few snakes whose bite is fatal to man. An average milking yield can vary from 0.2 - 51.4 mg of dried venom. The venom is supposed to be four times toxic than a cobra and has both heamotoxic and neurotoxic properties. The lethal dose for man is considered to be the secretion equivalent to 1mg of dried poison. Symptoms are burning pain at the site of the bite, late abdominal pain creeps in followed by paralysis. Eyelids droop. And a bite in some remote area away from any medical care usually results in death within five to twelve hours.
Antivenom: Polyvalent serum is available and should be administered as soon the symptoms of envenomation become evident.
Verdict: The snake is dangerous considering its fatal bite and unpredictable behavior. Antivenin is also in short supply these days. A species that should never be kept or handled by amateurs, keeping in my mind the fatal accident that took away the life of legendary herpetologist and my mentor Dr. Joe Slowinski.
1. Haast, W.E. M.L. Wener (1953): The second most poisonous snake in the world. Amer.J.of Trop.Med 4(6):1135-1137
2.Kauffeld, C.F. (1954): Manipulation of oudouras an aid of feeding snakes in captivity with special notes on king cobras. Herpetologica 10:108:110.
3. Vyas, madhu and Tej prakash Vyas (1984): Protective method for snakes from external parasites. Ibid 81:484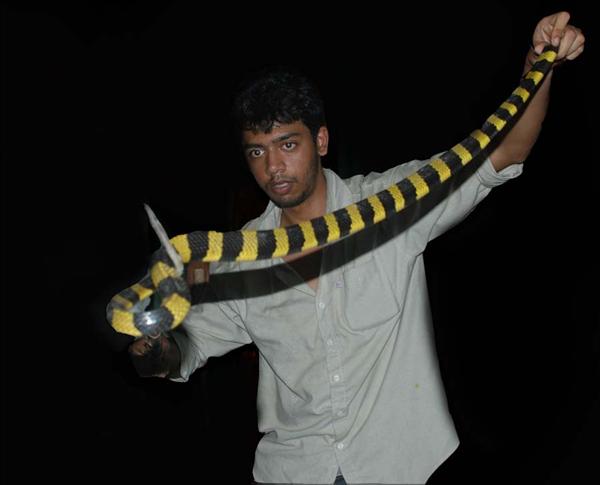 Author with a wild caught Banded krait (Bungarus fasciatus)
Keeping Kraits
Reply
by toni on January 8, 2011
Mail this to a friend!
Thank you for this interesting article.
Its not easy to find captive keeping info of these.

Im keeping B. multicinctus youngster, that is feeding 2/3 cornsnakes, and 1/3 thiamise free fish. I have understand that in nature my keeping locality do use quite a lot two/three specific (dont remember them scientific names straight) fish species.

Mine are Chinese, from mountain area and do take quite cold nights. Eating once a week 1/3 size body part snake piece and shedding once a month.

Truly flying snake when it decide to move fast. This should be noted seriously.

My terrarium floor is half mild moist peat and half dry paper. Climate area where i do live, in Finland is different than yours, so we dont have to be much as there, afraid ticks or ants, etc. from nature decorations.

If i do remember right, in Germany?/USA? is breeder who has breed your mentioned species several times??
I try to find out his name/contact and send it to you in private.

Do you know what these might eat in nature, when they are young? This would be really interesting issue to me.

Sorry my clumsy english..
Regards
Toni Beckman
Keeping Kraits
Reply
by Lovelifesemperfi on July 14, 2011
Mail this to a friend!
Mr. Roy,I truly enjoyed your article. I figure the most information we receive from our colleges the better.keep up the great work and once again, thank you.
RE: Keeping Kraits
Reply
by johncv66 on May 9, 2015
Mail this to a friend!
Wow, I guess you learn something every day. Ive never handle beautiful snakes. A few years ago a friend of mine that lives here in the USA, went home to India and asked me if i wanted to go. He live in a tiny also town. more of a village with its own dialic. The people had a problem with a Krait. Problem here wasn't just the snake. It is they couldn't find ANYONE willing to go in and remove the snake. They ended up killing the snake when found out of fear and no to rescue this species. Will this species of snake return to the same place if removed?
Keeping Kraits
Reply
by ThailandHerper on September 6, 2016
Mail this to a friend!
Thanks for this article - I enjoyed it.

I've found the red-headed krait on two occasions during daylight hours - though I wouldn't waste my time looking specifically for it then. I've found one at night as well, and most of my buddies that have found them have done so during dark.

It seems that you're speaking generally about all kraits - but there need not be an intense burning at the bite site. Many bites go unnoticed after the initial penetration and envenomation - as in the case of someone sleeping on the floor who is bitten by B. candidus or B. fasciatus who wakes up rather paralyzed and cannot explain why.

Just found these articles, timeless reading! Thanks again - cheers!
Email Subscription
You are not subscribed to discussions on this article.

Subscribe!
My Subscriptions
Subscriptions Help

Other Captive Care Articles

Jameson's Mamba Captive Care

Captive Care and Breeding of the Monocle

The Black Mamba

Captive Care of the Russell's Viper

Captive care notes for D. angusticeps

---