Northern Copperhead Bite
from Leo Spinner
Website: http://skinandscales.net/home/ on September 3, 2008
View comments about this article!

Northern Copperhead Bite
My Experience
by
Leo Spinner

Owner | SkinAndScales.net

It was the end of June 2008 and I had three of my boys age 12, 13 and 15 down visiting from Cape-Cod, Mass., for a snake hunt in North Eastern Pennsylvania. It was early morning about 8:30 a.m., and it had rained the night before. The weather was overcast with temps in the mid-eighties. It was perfect weather to herp.

We had arrived at one of my sure thing spots on the side of a mountain, alongside railroad tracks and within ten minutes we were to have already found several snakes. The excitement of the day began when only a couple of minutes from the car Morgan spotted an adult male Eastern Hognose lying right out in the open on the gravel with which the tracks lay upon.

Moments later our day rolled into two Northern Copperheads, an adult Eastern Garter Snake, a gravid Five Lined Skink, an adult female Black Ratsnake which was clearly gravid and a beautiful adult Timber Rattlesnake, as predicted. This was proving to be a perfect day in the field.

A few yards up the track my son Mario alerts the rest of us that he has found another Copperhead peering from beneath a large flat rock which lay against a mound of coal dust.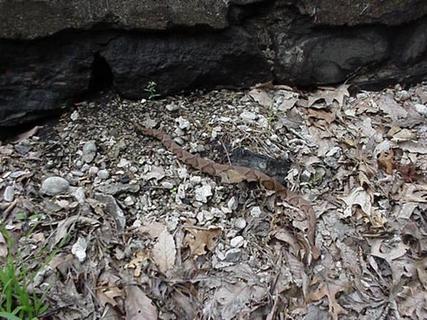 Well versed in snake hunting at such an early age, Mario knew not to disturb the snake or create much activity in the area until the rest of us arrived at the location.
With a philosophy that all things are an educational experience, we spoke as a group and worked out the best plan of action to make the most out of the find. We all looked carefully around the edges of this rock to be sure there were no other snakes resting just out of view which may put one of us in danger. I decided to gently lift the rock backwards while 15 year old Leo carefully manipulated the snake into the open. Mario and Morgan placed themselves strategically in the event that the snake were to decide to make a quick break in one direction or another.
As I lifted the rock I exposed the gorgeous and rather large at 2 1/2 feet bright orange Northern Copperhead. Its colors seemed so intense against the black coal dust which was all around. At first the gravid female snake lay still, obviously taken by surprise by her sudden exposure to the daylight. Leo proceeded to gently hook her and pull her away from the rock. The second that hook touched her body, the snake was off like lightning in a direction which was uncovered by any of us!
Still holding this large rock back with my left hand, I instinctively and wrecklessly (Yep, I admit it) reached down and grabbed the Copperhead by the tip of the tail in an effort to just pull it back enough for Leo to move in and hook it. I believe in the same moment that I reached for her tail, she had decided to change direction and her mouth was instantly wrapped around my finger. I then recieved two fangs into my knuckle and a full envenomation. It was instant and intense pain, not unlike that of a wasp sting.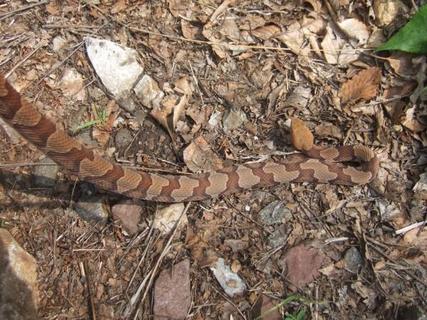 She didn't bite and release; she had bitten and held on long enough for me to lift her from the ground. I'm not sure if maybe the area she made contact with had caused her to become stuck or not, but she didn't let me loose right away. A moment later, the snake dropped to the ground and Leo contained her. Within less than a minute my index finger was swollen completely from the base to the tip, swollen to the point where it looked white from the blood being pushed from it.
My boys were not shaken at all by the event. Though I had never been bitten by a venomous snake even after 30 years of working with them, the boys had grown up around these animals and knew the worst case scenarios.
Knowing that Copperhead envenomations were rarely severe, I thought about continuing the snake hunt. I didn't want to let my boys down and it was a great day for what we were doing! However, within less than ten minutes now, my hand had swollen to the size of a softball and I realized I may be having an unusual allergic reaction to the bite.
The pain became excruciating rather quickly and it felt as if the pain was radiating outwards from within my bones to the surface of my skin. I decided that I would stop at the first house that had a vehicle in the driveway as I knew we were in a pretty remote area and had no idea where to find a hospital. [Editor's Note: This is a good reason to use a GPS with built-in nearest Hospital and route data.]
After driving for about ten minutes we came upon a house and the home owner greeted us with kindness. As it turned out, her son worked for an ambulance service so within a half hour of dispatch, an ambulance was on the scene.
The attendants were clearly not very well educated with knowledge of snake bite. Although very nice, one of the attendants began to explain to me that there was a good chance that I was going to die from this bite and that the Northern Copperhead was considerably more deadly (as he put it) than Pennsylvania's only other native venomous snake from the eastern area of the state, the Timber Rattlesnake. I just kept quiet and let him go on about it, I wasn't really in a mood to be talking facts with him at this point. Although my kids were holding back laughter at some of his stories.
Throughout the ride to the hospital which took just about an hour at 90 miles per hour, my vitals were monitored and I was offered but decided to refuse pain meds. I personally prefer not to take meds unless I really can't take the pain. By the time I reached the emergency room about an hour and forty five minutes after envenomation, my arm was swollen to my elbow and the pain followed the swelling, radiating up the length of my arm and feeling even more intense within my joints.
To my surprise, I was greeted like a celebrity at the hospital. There were many residents, doctors and interns waiting to view the bite and hear my story. Several people throughout this ordeal had asked me if it had happened at a Rattlesnake round-up which apparently is well known in the area.
Anyway, apparently my snakebite was one of only two that this hospital had ever seen, the other having been a Timber Rattlesnake. I thought it seemed unusual that in an area where Timber Rattlesnakes and Copperheads are so common, the hospital had only treated a couple of bites. I later learned from talking to local people that its not unusual for people in remote areas of Pennsylyvania to stay at home and avoid treating their snakebites. Money may play a key role in this behavior.
Anyway, by the time I had been admitted to the hospital, my pain was to the point where the doctors had me on a Morphine IV through which I could still feel the pain. I learned that the doctors had been online for quite some time researching copperhead bites and how to deal with them. My official doctor came in and explained to me that he would not administer antivenin because the one other time he had tried it, the patient almost died from shock (his exact words.) This was for a Timber Rattlesnake bite. I didn't mention it at the time because I was overwhelmed with pain, but I would think that they would have at least performed a scratch test to see if I was allergic to the antivenin, but whatever. [Editor's Note: Time to call 87-SERP-DRUG!]
During this whole experience, my entire body felt completely normal and totally uneffected by the snake bite except the areas in my right hand and arm which were obviously effected and swollen. I had no headaches, no nausea and no difficulty in breathing. I was able to function biologically 100% and remember even when I was at my peak of pain thinking, "Man, that intern is hot!"
I stayed the night in the hospital for observation. By 9 p.m., my arm was swollen to my shoulder and down the right side of my body as far down as my groin. It felt as if I had water beneath my skin and it moved like water when I moved parts of my body. I remember while urinating that there was an extraordinarily strong odor which smelled like latex rubber. I don't know if this was a direct effect of the bite or most likely from the morphine. I was able to press against my hand and leave indentations in the swelling that would only disappear after an hours time.
Bloody, serum filled blisters appeared on my bitten finger during the night and if I refrained from having my arm elevated, the swelling and pain would intensify ten fold. My veins and arteries on the affected hand looked to be collapsed and formed channels across my arm where they were once pronounced outwards. When I tried to stretch my arm into a straightened position over the course of weeks to follow, it felt like individual muscle strands were stretched to peak and were about to snap.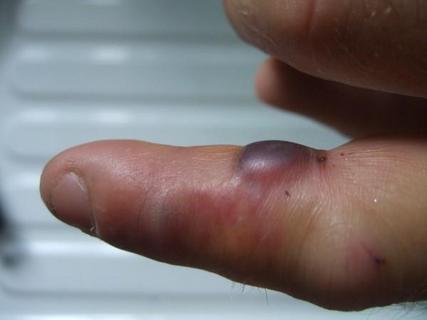 I was a slave to my swollen arm for the next two weeks until it had subsided enough for me to function with my arm at a normal level. As of this writing, it has been a month and a half now since my Copperhead bite and my bitten finger is still swollen. I have motion in the finger but cannot straighten it out completely, nor can I fold it downwards completely. The pain however is gone.
The blisters had been left alone and eventually absorbed back into my finger and the dried outer skin peeled off. I still have pain in my elbow joint when I lift anything relatively heavy.
Respectfully speaking, I am not regretful of the bite. It has been a learning experience, and I would be lying if I didn't say that somewhere inside of me I had harbored a morbid curiosity of experiencing a bite so I would have a better understanding of what many others have been through, and a better understanding of my chosen field. Once is enough though.
Thanks for reading and if you would like more info or to see photos, post here or e-mail skinscales@Yahoo.com

Northern Copperhead Bite
Reply
by Crotalusssp on September 4, 2008
Mail this to a friend!
Thanks for sharing your story. Sometimes Copper's do not get enough respect with regards to envenomation. It is true you are unlikely to die, but should not be taken lightly. If you could email a few more pictures I would appreciate it. I am a biology teacher and show snake bite photos from time to time while I am trying to educate and dispel myths of snakes. I try educate my students, who come from rural South Carolina, about snakes and their important role in the environment. Most have grown up hearing nothing but that old saying, "The only good snake, is a dead one.". In teaching them about snakes important role, I do however show them bite photos to discourage careless behavior. Respect and enjoy from afar is what I tell them. Thanks again.

Charles
RE: Northern Copperhead Bite
Reply
by SnakebiteLady on September 5, 2008
Mail this to a friend!
I got bitten by a copperhead middle of July (7 weeks ago) on the thumb, and my experience was much the same as yours. We took pictures every day for the first couple of weeks. Even though these snakes are very common around this part of Arkansas, the hospital and doctors seemed pretty clueless. The hospital did not stock the antevenin, which may be due to the cost. I saw somewhere on the net that it is $500 a pop. My thumb (where he bit me) has still got a crusty black scab where my thumb print used to be, and I still have some numbness and nerve damage. From the joint to the tip of my thumb is still swollen! Home remedies like comfrey, aloe, and oil of oregano helped me more than anything the physicians did. You are right about the pain, burning, throbbing, and the nerve pain! Pain pills didnt touch it. Good opportunity to practice meditation though. And I guess we have snake medicine now that we have survived the bite!
Northern Copperhead Bite
Reply
by Crazywolf on September 5, 2008
Mail this to a friend!
i keep copperheads and whatever venomous snakes i can legally keep, i have not been envenomated, there is a 3% part of me that wants to experience envenomation but ofcourse the other 97% of me is like "what are you STUPID?!?!"
my northerns just dropped 3 babies, im more afraid of getting bit by them than i am the adults due to babies not knowing how to control themselves yet
i guess theres no point to my comment, just rambling on
but i do have a question, in the article it says its common for locals to stay at home untreated, not saying i would do this but what would happen if i got bit and never went to the hospital for it?
other than the rare chance of death, whats the worst case scenario? im just recently getting into copperheads and honestly have not researched anything about them until yesterday when i discovered the 3-4 day old babies under the substrate, but what ive been told is you wont die but likely to lose a digit.

RE: Northern Copperhead Bite
Reply
by thenewdisciple on September 5, 2008
Mail this to a friend!
The odds are in your favor that you will not lose a digit, or die. I would say you should go to the hospital though. If anything you can get a subscription to some pretty bad ass pain pills.
RE: Northern Copperhead Bite
Reply
by SnakebiteLady on September 6, 2008
Mail this to a friend!
I can understand the small desire to experience the bite. I was told the biggest risk was infection, so keep oil of oregano on hand and comfrey and you would probably be ok. They did give me a tetanus shot, too. I valued the morphine the most, because the pain was beyond anything I could imagine, but it still hurt a lot even with the morphine.
RE: Northern Copperhead Bite
Reply
by theemojohnm on September 7, 2008
Mail this to a friend!
The Agkistrodon is my favorite genus, and copperheads are some of my favorite species. I have worked with this genus more than anything else. Northern copperhead bites ussually are not bad and CAN go un-treated, but I still highly feel you should go to the hospital. Without treatment even months later sometimes, some strange side effects sometimes show up like stiffness, or even pain again.

My strongest point is however... Unless I read wrong, the locals often times leave Timber Rattlesnake bites un-treated?!!
Copperhead bites may be mild, and can somtimes go untreated, but GO TO THE HOSTPITAL FOR A TIMBER BITE.


Thanks for sharing by the way! Any more photos of the swelling in your arm, or the blister as it progressed? johnmendrola@yahoo.com

Thanks, And Take Care.
~John.
RE: Northern Copperhead Bite
Reply
by JHarrison on September 14, 2008
Mail this to a friend!
All venomous bites should be treated by a Doctor. Infections in snake bite can occur but are only seen in a small number of bites. Usually when you have cut on the bite or have necrotic tissue. No topical solutions will help if you get an infection from a bite. Oral and IV antibiotics are what will be needed if there is an infection. Antibiotics should only be used if you have a known infection.
RE: Northern Copperhead Bite
Reply
by Voided37 on October 2, 2008
Mail this to a friend!
Thanks for sharing your story.
After numerous close calls from proximity to coppers and growing up around them, along with their bite-first-ask-questions-later attitude, and their great camoflage, I figure them to be about a southern boys and girls most dangerous snake. Regardless of their toxicity, IT HURTS!
Sounds like yours wanted to let you know how much it disliked being fooled with! And even though I sympathize with you I also sympathize with the snake!
Sorry about that..to both of ya!
But your very level headed sounding so I'll bet you know what I mean. Most bites occur because someone is disturbing the snake, so I've read...did you learn anything? [Sneaky little laugh..sorry]
Anyhow, again, thanks for sharing and I DO NOT think your pain is funny, quite the contrary.
Steve
RE: Northern Copperhead Bite
Reply
by COBRAMAN on October 4, 2008
Mail this to a friend!
I have to agree with Jim Harrison's reply. No two snakebites are the same, and if for no other reason, go to the hospital for comfort measures and antibiotics. By doing so you may also avoid some unforeseen complications that may be unique to your specific bite.
Ray Hunter

Northern Copperhead Bite
Reply
by granitback on November 17, 2008
Mail this to a friend!
Wow thats crazy. I was bitten by one of my trans pecos copperhead babys about 2 months ago it was alot of pain and dizzyness but after about a week it was all over with. It was my own fault i was given them water and the little guy got me on the hand.
Northern Copperhead Bite
Reply
by Jonsey on December 1, 2008
Mail this to a friend!
Well written article, and one to make people realize the seriousness of copperhead envenomations.
My neighbor was bitten last summer while on a fishing trip, and unfortunately developed complications from the bite resulting in a fasciotomy , a surgical procedure for compartment syndrome, a fancy term describing increasing pressure between muscle layers which does not allow for blood circulation to the affected muscle which can result in tissue death.
Fortunately surgery was successful and he has complete range of motion to his finger.
I am a beginner to the study of venomous reptiles and would appreciate any medical advice on treatment of envenomation, as I am an RN and would be very interested in putting together a presentation for nursing colleagues.
Thanks,
Dave
RE: Northern Copperhead Bite
Reply
by JHarrison on January 24, 2009
Mail this to a friend!
Surgery should rarely be done on snakebite and in the hundreds of copperhead bites I have seen or reviewed none needed surgery. It sounds like this victim was mistreated. Get a second opinion from AZ Poison Control or some other snakebite experts before allowing a doctor to cut on you.

Jim Harrison
RE: Northern Copperhead Bite
Reply
by snakebait67 on February 21, 2009
Mail this to a friend!
what will happen if you dont go to the hospital is the following: massive tissue loss in the area of the bite and around it, second alot of nerve damage,and third, a very possible and very nasty infection... i too keep copper heads and to tell you the truth im 13, i know how to handle these suckers well and have gotten bitten only once... when i was 7 i almost died because i was small and the proportion of size to venom was very unbalanced. but ever since then i have loved these animals more than anything i curntly have 23 snakes and 9 of those are venomous. my collection inculdes 6 copperheads, a coral snake, a dimond back, and a baby Gaboon that i got at a snake show.

RE: Northern Copperhead Bite
Reply
by Bogga on March 24, 2009
Mail this to a friend!
Snakebait67
You mentioned you had a gaboon, where do you live? do you have AV on hand for a bite of this specie?


Northern Copperhead Bite
Reply
by kasey123 on May 11, 2009
Mail this to a friend!
My fiance was bitten by a copperhead 2 days ago on the forearm, and his entire arm has been swollen since. I was just wondering how long we can expect the swelling to last??? Just send me an email to kmdecker10@yahoo.com with the answer... ANYONE!!! Thanks
Northern Copperhead Bite
Reply
by WaffleGuy on June 17, 2009
Mail this to a friend!
One of the biggest risks from envenomation is definitely compartmentalization. Swelling can become severe enough to damage nerves and other tissues, sometimes permanently. There are a LOT of variables and one should get professional medical attention. The Tuscon poison information center, which treats the most rattlesnake bites in the US annually, is a good place to call for expert help. Also their number is easy to remember 1-800-222-1222, they are happy to provide and expert reference for your Doc. Even better, call them while your enroute and tell them what facility you are going to, and they will call ahead and advise the staff (a big tip of the hat to ViperKeeper for publicizing that). There are other good resources posted on this and other sites as well.

A friend of mine here in NC was bitten several weeks ago on the finger while working in his yard by a copperhead. While he had little trouble with the site of the bite and minimal pain; he had huge problems with swelling and compartmentalization for about three days. Fortunately he responded to treatment and is fine now.
If you want to read an account of a nasty bite (from unknown snake) requiring a fasciotomy go here: http://www.ellysnakebitefund.org/The%20Incident.htm

Anyway, I'm glad you are recovering and pain free, I wish you all the best along with a fast and complete recovery.
RE: Northern Copperhead Bite
Reply
by JHarrison on August 1, 2009
Mail this to a friend!
Most if not all the people at Venom Week would disagree with doing surgery on snakebite as it is rarely needed.
Compartment pressures should be measured before any thought of surgery. Out of hundreds of pit viper bites I have seen none had pressures that would need surgery.
Always get a second opinion before having someone do surgery on a snakebite. Poison Control in Arizona is a good place to start.
RE: Northern Copperhead Bite
Reply
by lucky81 on September 12, 2009
Mail this to a friend!
Hello I found your story very interesting and thought you would like to here my unlucky one. On tuesday evening around 9pm September 8th 2009 I was running to my house from my in-laws. I have a shnouzer and he was out in my front yard playing. I thought I would be clever and sprint at him to get a rise out of him. I was in a dead run midway across my yard when it felt like someone hit me in the right foot with a hammer and I was wearing flipflops. I did not stop when I felt the initial pain but continued to my porch where I set down to see what I had done to my foot. I looked and looked to see if I was bleeding and to my suprise there was nothing. I continued into my house where my wife was wtching Television and again I set down and looked my foot over. At this time I was in severe pain and told her that I had did something very bad to my foot. I looked again and seen finanly to perfect blood drops in two holes on the inside of my right foot and new than what had happened. I told my wife "I have been bitten by a snake". She seen the bite and freaked I immediatly took off my belt and wrapped it around my leg just above the knee. I told her to call her dad and tell him to bring a flash light I needed to see what kind of snake it was. I went back outside stepped of my porch to where my dog was and my wife screamed "there it is" I looked down and the copperhead was coming at me and my dog striking I had really pissed this thing off. My first thought was to get the dog off the leash and if need be grab the snake to keep it from bitting my dog. Luckely I got the dog up onto the porch at the same time my father in-law trapped the snake. I usually do not kill snakes escpecially the blacks or timber rats but I have a little girl who plays in the yard and this was a very aggressive snake and I was pissed so it had to go (with me to the hospital). I am amazed at the power off this snakes bite I cannot walk and my foot and leg are very swollen and they are changing very neat colors. I am on very strong antibiotics and pain medication and still wondering what this bite holds for me in the next week or so. I had just cought a 6 foot timber rat a week ago it had 8 rattles and a button and it is by far one of the most beautiful snakes I have seen. I could not imagen what its bite would feel like when this copperhead has felt this way. I am a avid hunter and fisherman and have never almost been bitten and wouldnt you know it I get bit in my own front yard, talk about your luck.
RE: Northern Copperhead Bite
Reply
by Voided37 on September 12, 2009
Mail this to a friend!
Southern coppers are usually where you least expect them AND where you do, in my experience.
They investigate structures it seems especially at sundown and nightfall.
Sorry about your misfortune, [and the snakes], and best wishs for a speedy recovery.

Keep us posted on your outcome please.
Northern Copperhead Bite
Reply
by liliana on September 14, 2009
Mail this to a friend!
about the last paragraph, since i was a teenager deeply
inside i've always wanted to be bited by a bothrops. Now taht i have 28 i see clear that if it had happened, i would be dead for sure. i'm too small to survive a bothrops bite. As you said some peole secretly want to be bited to feel how it is. You're lucky, it was only a copperhead bite... you know it...


lilisean@hotmail.com
Northern Copperhead Bite
Reply
by ward on September 20, 2009
Mail this to a friend!
It is unfortunate that this gentleman was not referred to the only specialty center for envenomations in Central Pennsylvania. The PinnacleHealth Toxicology Center in Harrisburg is staffed by medical toxicologists with decades of experience, based on the latest scientific information available, and has participated in national envenomation studies. Envenomations from Northcentral PA are routinely transferred to our center, usually by helicopter. The pain and residual disability this man suffered can be avoided with knowledgeable and expert treatment. See our website at www.pinnaclehealth.org/toxicology
Northern Copperhead Bite
Reply
by camoyeti on November 29, 2009
Mail this to a friend!
Thanks for sharing your story with all of us here, and needless to say, mild or not, getting hit is still getting hit. I'm a proud owner of a beautiful copperhead, and he's my first HOT, but just because he's New to me, he's still got those old traits of being a snake, and he gets my full attention and respect. Have fun and be safe. Thanks for the story.
RE: Northern Copperhead Bite
Reply
by Dmonty on May 7, 2010
Mail this to a friend!
You seem to be knowledgeable concerning copperhead bites.
I was bitten 9-15-09. The bite was in my right foot and I have healed fairly well. Crofab was administered 36 hrs after the bite. I have some nerve damage and I am not finding much info as to what to expect. For a while I had numbness over the front of my knee with occasional feelings of electric shocks up the inside of the knee. I am not sure if this is the healing process or if something else because the pain I feel now(5-2010) is much more intense and like being stung, plus the pain lasts longer than the electric shock sensation. I have continued with random surges of pain at the bite site and up my leg. My Drs do not seem to know much about recovery. Any info you could share or a dr.'s name that is familiar with snakebite care would be hugely appreciated. Thanks!
Northern Copperhead Bite
Reply
by pyromedic on August 12, 2010
Mail this to a friend!
This was great documentation on your experience. I was bit by a southern in September 08 when I mistakingly identified it as a rat snake. This occured at our fire station while we were conducting training. I went over picked up the hose and sure enough there was about a 3 footer lying under it, I immediately stepped on its head. This greatly reduced my ability to ID from head shape, while I am stepping on him and attempting to get a concensus of what he was, he begane to musk, which for me had always been a sure sign of the rat snake. Wrong assumption, I asked for one of our nitrile EMS gloves so that I would not get it on my hands as I have done with my ususal FF gloves, as I reached down thinking I was behind the head but still close enough to prevent any mouth action, as I removed my boot he made popped me on the thumb, ripping the usually tough nitrile glove and drawing blood, it was then that I realized that those are fangs and this aint no rat snake, now here is where most sane and logical thinking individuals would have dropped him and got the heck out of his way, but remember I am a firefighter/paramedic who has for nealry 30 yrs done responding to other peoples worst events in an effort to rectify the situation, put out the fire, rescue the trapped patient, treat the medical condition etc...all of this as a volunteer for our community, so sane thinking and normal I aint. When I did not drop him but instead applied more pressure he proceded to latch onto my index finger near the base, why I have no idea but I continued to attempt to choke a reptile that can be run over by all 18 wheels of a semi and still slither off, not smart again. I went to my truck got a pair of cutters and had another FF remove his head so that I could show the ER staff that yes indeed it was a copperhead. Then the events began to blur, I grabbed a EMS crew and we headed straight to Parkland per our protocol all the time watching my hand expand like it was being aired up with a hose, we advised our medical control that it was one of our medics that we were transporting and upon arrival I was met with a group of specialists who were going to make sure that they got on this quickly and with the best therapy. My finger and hand were swollen to unbelievable proportions, the swelling went past my wrist in less than an hour, in 3 hours it was past my elbow and in 6 hours my shoulder was showing the effects also. They began immediate Crofab infusion, as well as IV morphine and other antibiotics. At about 1 hour in I began to get really sick with projectile type vomitting, this lasted quite a while and the standing joke was that I had not chewed any of the fried pickles I had eaten for lunch. As the swelling increased, so did the pain, so I recieved more Crofab, then more Crofab until I had recieved a total of 6 vials over the next 48hrs. I spent the next 3 days being observed and monitored with blood draws and watching for any type of infection setting in. I went home with instructions to have blood drawn 2 per week
for six weeks, my hand remained swollen for 2-3 of those weeks but at about 4 weeks into it , I developed blood clots in my lower left leg, This led to getting prescribed with Louvinox, then coumadin. My IR levels remained all over the place as my body was being totally invaded by venom, then antivenin then anti coagulants. Three weeks after the blood clots I began to have extreme back pain, numbness and impingement of my L5 disc on the sciatic nerve which became an equally painful part of my life. The MRI showed that I had bulging disc which had never been an issue in the past, then started a long attempt to use medicines in an attempt to make life tolerable. The pain meds that I was now hooked on and allowing me to function with the snakebite did nothing for the back issues, muscle and nerve relaxers did nothing, rehab abd decompression did nothing to ease the pain. There was a clear need for surgery but they would not do that due to the recent blood clot history, by Dec08, when no amount of the most potent pain meds were giving any relief, I had surgery to place an IVC filter in the inferior vena cava to catch any clots, the next day surgery was performed, instant relief and no pain, Yippee. Then came teh surgery to remove the filter, done in a cath lab it should have take 15 minutes tops, 4 hrs later I am told sorry you will have to live with it and take anti coagulants the rest of your life. No problem except after as I move off the surgical bed I now have a burning in my back , unknown reason by the cardio surgeon but I have the same exact pain to this day as I did when I slid off the table. Innformation points to the use of the papaya extract used to help the antivenin bond also softens disc material to allowing them to move back within the disc, mine came out once softened up. Since mine was a work comp issue I got the usual "doc in the box" primary care facility for followups and blood work.
I am now coming up on 2 yrs after the intial bite, my finger has about 70% range of motion and still feels numb and tingling with the occasion shooting nerve pain, I cant lift my right arm past 90degrees, nor can I make a normal throwing motion. All of this I trace back to the bites of a copperhead whom I made the mistake of picking up, then not dropping after the first bite or the second bite either, I believe I got the full volume of his venom sac.
Sorry for the long note, and remember everyone reacts differently to bites and treatments, be sure to seek further specialized care if problems persist. There is a wealth of knowledge on the web even if your area does not usually see them.

Stay safe and use proper protective equipment in everything you do.
RE: Northern Copperhead Bite
Reply
by Char on October 26, 2010
Mail this to a friend!
I joined the Copperhead Club on Friday the 13th, July, 2007.

I was getting some things out of the back of my cargo van which I had earlier backed up to some blocks and rocks (which I normally did not do). In and out of the van, unloading all kinds of stuff. I was wearing flip flops. While pulling another load out of the van, I felt a scratch on my heel and knew immediately I had been bit by a copperhead even though I had never seen a copperhead out where I live before or since. I live in a very rural area next to a state forest and my neighbors report seeing copperheads regularly. Rattlers are in this area also. After I was bit, I looked down and saw a large pink snake coiling around the rocks at my feet.

I immediately drove myself to the nearest hospital, 45 minutes away. My foot and ankle were already swelling and painful. I refused to take any drugs since I am very sensitive to drugs and chemicals. They kept me for 3-4 hours and then sent me home. Since I was bit on the left heel, I was still able to drive home ~ but just barely. I crawled into the house and didn't leave for nearly two months.

My foot, ankle, and leg swelled up all the way to my groin. They turned green, black, blue, and purple and were excruciatingly painful. Lowering my leg was even more painful and increased the pressure and swelling in my foot. Eventually, the discoloration of my leg faded but my foot remained puffy, purple, and painful and lowering it made it unbearable. I could not touch my foot to the ground or anything for a month.

I was also extremely tired and have since learned that the venom destroys red blood cells and can cause anemia.

I was on crutches for two months. But mostly I was in bed with my foot elevated. Week after week went by with no change. My foot remained puffy. purple, and painful and I began to wonder when or if it would ever get better. The doctor had told me it would be better in a few days and this was much longer than a few days!

I eventually started wrapping my foot in an ace bandage to stop the extreme swelling that occurred whenever I lowered my leg. Wrapping my foot made it possible for me to eventually give up the crutches.

I eventually visited a naturopath who, after some research, recommended a homeopathic, ledum, orally. Not sure if it helped or not as I was already well on the road to recovery before I started taking it.

Later, in December, I was in Chicago for several days and walking on the concrete seemed to aggravate my foot and create swelling and limping again. I had to buy an ace bandage and start wrapping again until I returned home. You should have seen the look on the faces of the city dwellers who asked why I was limping and I told them I was bit by a snake!

After the trip to Chicago, I have never had any more problems. Sometimes I fancy some tenderness in my foot which is probably more due to the bad memory. Actually, writing this and thinking about it has brought back some of that tenderness but, generally, I am fully recovered.
RE: Northern Copperhead Bite
Reply
by drewb on November 11, 2010
Mail this to a friend!
I teach biology in South Carolina as well and try to change many of my students views on snakes. I currently have nine in the classroom. I teach over 150 students and all of them now enjoy handling them.
Northern Copperhead Bite
Reply
by ptcrep1 on January 26, 2011
Mail this to a friend!
In response to some of the replys to this article, i agree that the Copperhead does not get the respect it deserves. I've worked with venomous snakes for 25 years and have had 3 bites involving envemomation. Two bites were from Northern Pacific Rattlesnakes, and the most recent a Southern Copperhead. My two previous rattler bites were from adult snakes, and both were able to hit me with 2 fangs. The bites were painful, but neither included longer than a day in the hospital and I had full recovery within a week.
However, the copperhead bite was a different story! As of today the bite is on day 11. The 14" subadult snake was able to catch the side of my right pinky with 1 fang. It was a fast bite and the snake was not able to hang on for any extended period of time. I experienced an immediate burning sensation at the site of the bite, and proceeded to call every Agkistrodon expert I know. To make a long story shorter, they told me to be ready for PAIN!! And let me tell you, they were not joking. Day 11, I still have a purple and swolen pinky, with swelling still progressing down my finger toward my knuckle. The puffiness has gone down a bit, and the pain has dropped to just really bad and not terrible. Needless to say, I have a newfound respect for the so called "mild venom" of the copperhead.
Northern Copperhead Bite
Reply
by JFC on May 21, 2011
Mail this to a friend!
PLEASE! Learn your weeds~PLANTAIN is for snake bites & bug bites & bees & so many other bites & stings! Like dangerous spiders. Leo, if you had taken with you a tincture of plantain (not the banana thing) made with apple cider vinegar you could have saved a lot of the swelling. God in Christ created for us, his creation, plants for such a time as this. You can safely drink this tincture as well to further help with the bite. You can spray it on, dab it on or soak in it..the finger anyway for this situation.
Vinegar in the body balances the ph & stops the ill effects as you are on your way to the hospital or not! Works for chicken pox or other pox too.
here is a site to research this abundant plant in your yard unless you kill it with chemicals. juswingit.blogspot.com
In an emergency grab the fresh plant, chew (don't swallow yet~)apply spit & all on the bite or sting. Leave to work its wonders. It draws out which is what you need in a serious bite. It keeps down the swelling if you continue to apply..until the swelling stops, for days if necessary. the tincture works the same way..it draws out!
There are homeopathics specifically for this as well~ here is one Crotalus Horridus from abchomeopathy.com
*Snake poisons are supposed to be chemically Can. hydrates of Soda and other salts. Alcohol is the natural solvent of these salts and is an antidote. Has a profound trophic action. Old age nutritional troubles. Low septic states. General disorganization of the blood, Hemorrhages and jaundice. A crotalin injection decreases the rate of coagulation of the blood.* ~Its a diluted venom for like cures like. Which is the way homeopathics work. Only safer with this situation than what you would get in a hospital. It is actual treatment that you need not fear nor worry about allergic reaction. That doctor was very wise to not give you that venom...it can kill you & that's what you are trying to avoid. If you are to get bit again, it is even more deadly because the "antivenom" does that! Anyway..not the expert on snake bites, but I am on these herbs & they work..been there done that!

Be caustious with the comfrey as mentioned in the one post, it heals so quickly you can inadvertently close up infection & get gangrene. I use the herb, I grow & sell the herb & I have posted about comfrey at my blog on many of its uses juswingit.blogspot.com. As well as the Plantain.
RE: Northern Copperhead Bite
Reply
by Rigsby on May 30, 2013
Mail this to a friend!
I was unlucky enough get on the wrong side of a northern copperhead I'm keeping over here in England. I had a burning sensation at site of bite immediately , I rang my friend who keeps rattlers and he drove me to hospital. Now the only venomous snake we have over here is the adder so when I told them I had been bitten by a copperhead nobody had the slightest idea what to do. The nearest antivenin was four hours away , the found this out after two hours on the Internet checking the snake out. One doctor finally came to me and said they are known for dry bites , are you sure it's not a dry bite ? My friend pointed out that had it been a dry bite my arm would not be swollen to the elbow and it wouldn't look like I had a boxing glove on. I was in hospital two days and never recieved any antivenin , it took three weeks before you could call my hand back to normal.
RE: Northern Copperhead Bite
Reply
by Nobody on May 20, 2014
Mail this to a friend!
We live out in the remote smokies and have three small children. Tonight I beheaded a copperhead. The kids watched as I skinned it, gutted it and we fried it up with some sage, pepper and salt. The kids loved it. So while these little suckers can bite and put a hurt on you... you can return the favor - and it's quite tasty.

As with any animal you kill, use everything. My dogs got the guts, we all shared the meat and the skin is currently drying on a board to adorn a hat. The bones will go into a bin for future jewelry. The head, however, will return to the earth buried beneath the smokies.

We are infused with the energy of the copperhead. It lives through us.
Email Subscription
You are not subscribed to discussions on this article.

Subscribe!
My Subscriptions
Subscriptions Help

Other Snake Bite Articles

I Should Be Dead

Lachesis Bites in Brazil: 2 Cases

Snakebite in Sri Lanka

Being Bit By the Big One

---